Jiu Hoo Char (translation – stir fried cuttlefish) this is a traditional Nyonya dish
– a must have for Chinese New Year and any big festive occasion. Nyonya is a unique culture found only in Penang, Malacca and Singapore where the Chinese culture has influence from Malay & Thai in Penang, Dutch & Malay in Malacca and Malay in Singapore.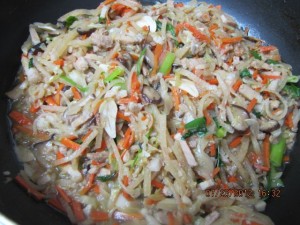 This dish has shredded jicama, carrot, cabbage, onion, black mushroom, green onions, cilantro, dried cuttlefish strips, sliced garlic flavored with fermented soy bean paste (similar to miso) and all cooked down till soft and nice. Great to eat wrapped with lettuce!
3 cups shredded jicama
1 cup shredded carrot
2 cups shredded cabbage
5-6 dried black or shitake mushrooms, soaked in warm water and thinly sliced
7-8 cloves garlic, thinly sliced
1/2 – 1 lb. pork belly, boiled and slicked into 1/8″ strips (save the stock)
1 bunch green onions, cut into 1″ lengths
handful of cilantro, leaves only
1/4 cup dried shredded cuttlefish strips (you should be able to find this in Asian stores, if not shredded then get the whole dried cuttlefish and shred it) soak in 1/4 cup water till soften, drained to use
1 tbsp. ground fermented soy bean paste (available in Asian stores)
1/2 tsp. sugar
1-2 tsp. salt
1 tsp. pepper
1 tsp. chicken stock granules (optional)
1 tbsp. chopped garlic
1 cup pork stock
Heat 3 tbsp. oil, add chopped garlic, saute till fragrant but not browned. Add soy bean paste and stir fry till frangrant (a couple of minutes) then add cuttlefish, fry for 2 minutes. Add all the vegies, leave mushroom for last. Add seasoning and pork stock, bring to boil. Add mushrooms and pork. Only add green onions and cilantro at the last few minutes so they keep their green color.
Lower heat and simmer for 30 mins. or so, stirring occasionally. Adjust seasoning as needed. Cook till jicama is soft but not mushy.