My home made Chinese dish Panzit!!!!!!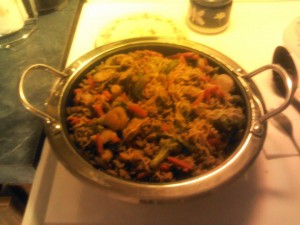 here we go this recipe,,,,one and a half pound groung round. Put it in a wok make sure its a done. By a big bag of Oriental vegetables the bag with the little prices of corn & sugar snap peas . Put half the bag in over the meat then I use 3 bags of ramen noodles. Cook them seperate in a pot of water 4 about 3 minutes then drain them. Do not use the packet in the noodles I throw my away. Pour them over everything in the the wok then pour soy sauce over all of this mix it all up… the only kind I use is the Kikkoman ….. I use a half of a 15oz. Bottle

This is really good….. if u want u can use fresh vegetables but it cost alot more. And this works really well.

My Sister n law is a Filipino and i got this recipe from her I make it alot.
I love it & its better the next day!