RECIPE AND PHOTO SUBMITTED BY Alexandra Lim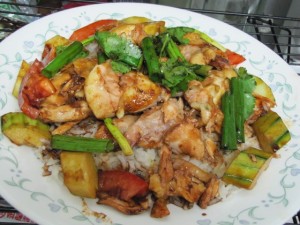 Hainanese Chicken Rice –
looks a little messy because I had poured the sauce over the chicken before I served it and the vegies were soaked too
This is very simple to make.
You will need:
1 whole chicken (reserve the fat for cooking the rice)
1 tbsp. thinly shredded ginger root
4 cloves garlic chopped
1 tbsp. thinly sliced shallots
3 cups rice, rinse and drained
2 tbsp. thick soy sauce (kicap manis or any thick caramelized dark soy sauce)
2 tbsp. regular soy sauce
1 tbsp. oyster sauce
3-4 tbsp. sugar
2 tsp. sesame oil
1 tsp. pepper
chicken stock from boiling the chicken
Garnish: cucumber, tomatoes, green onions, cilantro
Sriracha chilli sauce

Boil the chicken till cooked, remove to cool, then debone and cut into small pieces. 
Render the chicken fat in a pot (or pan if you wish). I cook my rice in the pot. Once you get about 4-5 tbsp. of fat (add cooking oil if not sufficient) add the ginger, garlic and shallots to saute till fragrant and lightly browned. Add the rice and stir for 5 mins. Add sufficient chicken to rice and cook. (I normally use my middle finger to measure the water up to the first nuckle joint – this is what my grandmother did and it always works, just make sure the rice is level).
To make the sauce, add soy sauces, oyster sauce, sugar, sesame oil, pepper in a small sauce pan. Add 2-3 tbsp. chicken stock, stir to mix well and bring to boil. Drizzle over the cut chicken, garnish with the vegetables and serve over the rice. You may or may not want to drizzle more sauce with the rice.