Giant Ornament Cookie
1/2 cup granulated sugar
1/2 cup packed brown sugar
1/2 cup peanut butter
1/2 cup butter or margarine, softened
1 egg
1 1/2 cups all-purpose flour
3/4 teaspoon baking soda
1/2 teaspoon baking powder
1/4 teaspoon salt
1 tub Betty Crocker® Rich & Creamy vanilla ready-to-spread frosting
Assorted candies
Method:
1. Heat oven to 375°F. Beat sugars, peanut butter, butter and egg in large bowl with electric mixer on medium speed, or mix with spoon. Stir in flour, baking soda, baking powder and salt.
2. Spread dough in ungreased 12-inch pizza pan. Bake about 15 minutes or until golden brown. Cool completely in pan, about 30 minutes.
3. Spread frosting on cookie. Decorate with candies. Loop string licorice through ring-shaped hard candy to make hanger for ornament.
Betty Crocker photo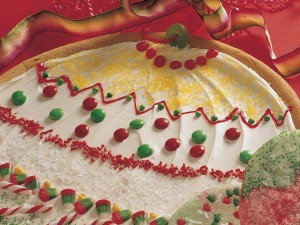 September 2021
M
T
W
T
F
S
S
« Jul
1
2
3
4
5
6
7
8
9
10
11
12
13
14
15
16
17
18
19
20
21
22
23
24
25
26
27
28
29
30