I made a quickie pizza today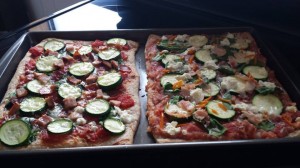 I don't measure anything so the measurements in parentheses are my best guess. To create my base sauce I used a can of Hunt's no salt added diced tomatoes, some fresh thyme (1 tsp), basil (1 tsp), parsley (1/2 tsp), oregano (1tsp), 2 cloves of garlic minced, and mixed together in a bowl with a wooden spoon. I used Pam cooking spray to spray a large cookie sheet and unrolled a container of Pillsbury Artisan Whole Grain Pizza Dough refrigerated and cut it in half to make two smaller pizzas. Start pre-heating the oven to 400 degrees. I stretched the dough out some before I added the toppings. For the pizza on the left I added several tablespoons of sauce spreading it very thin. Then I added several slices of zucchini and baby spinach leaves (to your preference). I cut up several slices of pepperoni into fourths and cut several pieces of cubed ham into smaller pieces and spread both on the pizza. I added less than a fourth cup of shredded low fat mozzarella to the pizza. I added a drop or two of olive oil on each piece of zucchini to prevent it from browning while baking. (They still had a little crunch to them after baking because I did not saute them before hand)
The pizza on the right is completely different! I took the remaining base sauce and added 2 small potatoes that had been peeled, boiled, and mashed to the sauce. I added a fourth cup of reduced fat feta cheese and about a half teaspoon of Mrs. Dash Extra Spicy seasoning and stirred well (can add more to make it spicier, which I will do next time). I added the sauce to the empty pizza on the right spreading the sauce out to the edges. I then added zucchini, baby spinach, one small orange sweet pepper (cut into thin strips), and two slices of Oscar Meyer Oven Roasted Turkey (cut into thin strips) to the pizza as evenly as possible. I then added less than a fourth cup of low fat mozzarella to the pizza. I added about 2 tablespoons worth of low fat ricotta cheese to the top of the pizza by dropping small chunks here and there on the pizza.
I baked the pizzas at 400 degrees for about 16-18 minutes until the bread looked done and the toppings started to turn a light brown.
You can pretty much add anything to the pizza. A couple of weeks ago I had cooked turkey sausage crumbles, onion, grape tomatoes, and mushrooms on one but didn't have those ingredients today. I like using the Artisan bread because it is quick, easy, and yummy! You can cut the bread dough into fourths if you need to and let each family member create their own pizza with whatever fresh ingredients you have on hand!