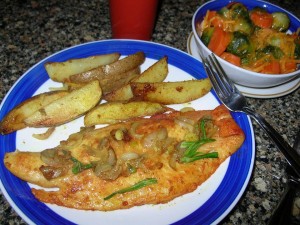 Curried Swai Fish, Shallot & Potato wedges, with side of steamed Brussels Sprouts & Carrot topped w/Cheddar Cheese for dinner last night.
Ted Crawford

It's a Vietnamese fish. So delicious. Walmart has it in 2 pound packages for $6.98… Very affordable at $3.50/lbs

Patricia Stover

There's one less than a mile away but the traffic is so bad; I can go to another one farther away a lot faster. lol
Ted Crawford

No batter. Just pan fried in olive oil with the potato & shallot. Potato started in the steamer with the sprouts & carrot, then finished them in with the curry powder..