RECIPE AND PHOTO SUBMITTED BY Diana Kincaid Smallwood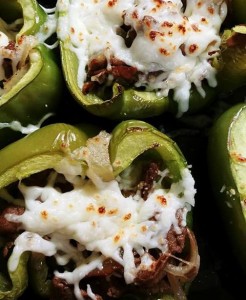 BUNLESS STEAK HOAGIES
Wash and half bell peppers. Any color (we chose green) half and clean them out.
Season with salt and pepper. Bake cut side up on 325 for about 35 min.
While baking in a skillet put in 2T oil and dice up onion (I used 2 for 6 whole peppers 12 halves) cook till tender, then add steak (breakfast steak or I used steakums) cut it in bite size pieces season with garlic sat and pepper.
Cook till done. Once peppers are done put in a small amount of cheese. You can use provolone or mozzarella. Add meat mixture and more cheese on top. Broil about 3 min till bubbly