RECIPE AND PHOTOS SUBMITTED BY Mary Wamsley
ASIAN GARLIC GINGER SCALLION STEWED CHICKEN OVER RICE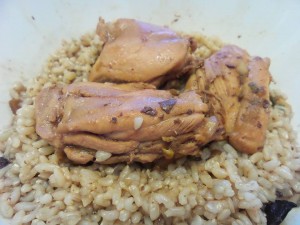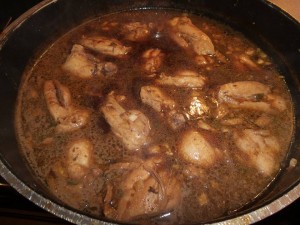 Stew Chicken
12 bone chicken (cut slits)
1 cup gizzards (optional)
cooked rice (optional)
2 tablespoons vegetable oil
Water
Seasons:
1 head of garlic minced
½ ginger minced
4 stems green onion minced
½ cup of basil (optional)
Sauce:
½ cup cooking wine
½ cup soy sauce
½ cup sugar
6 boiled eggs (optional)
4 star season (optional)
1. Mince garlic, ginger, green onion, & pull basil leaves off stem.
2. Cut slits in drumsticks allows seasons to soak in meat easier.
3. Heat oil, then pan fry all ingredients in seasons for few minutes.
4. Pan fry chicken & gizzards with seasoning until meat isn't raw.
5. Add all ingredients in sauce.
6. Add water until covers top of chicken and boil for at least 30mins
Hint: Sauces will soak in better the longer you boil it, max 2hrs.
Hint: Sauce taste great mixed with rice.
June 2023
M
T
W
T
F
S
S
« Feb
1
2
3
4
5
6
7
8
9
10
11
12
13
14
15
16
17
18
19
20
21
22
23
24
25
26
27
28
29
30