ALEXANDRA'S CRISPY NOODLES
RECIPE AND PHOTO  SUBMITTED BY Alexandra Lim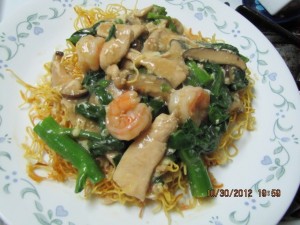 I bought a packet of thin fresh noodles (I think it might be for Lo Mien) and deep fried them after soaking them in boiling water for 20 seconds.
Here's my made-up recipe:
1 chicken breast (abt 1 cup) thinly sliced
1 cup medium shrimps
4-5 black dried mushrooms (or fresh shiitake)
3-4 cups Chinese mustard greens (you choy) or Chinese broccoli (gailan)
2 cups chicken stock
Marinade 
1 tsp ginger juice
1 tsp wine
1 tsp light soy sauce
1 tsp cornstarch
2 tbsp water
1/4 tsp pepper
1 tsp sesame oil
Seasoning
1 tbsp oyster sauce
1 tbsp soy sauce
1 tsp sugar
2 tbsp cornstarch mixed with 1/2 cup water
1 egg, beaten
salt & pepper to taste
Marinade chicken for 15 minutes.
Heat 2 tbsp oil and saute chicken till almost done, add shrimps, stir fry over high heat for 3-4 minutes. Season lightly with salt and pepper. Add mustard greens and mushrooms and cook for a few minutes. Add chicken stock and seasoning, bring to boil. Stir in cornstarch to thicken and drizzle in the beaten egg into the mixture, allowing it to bubble and cook undisturbed for 2-3 minutes.
Pour the gravy over the noodles and serve hot.
also good with squid