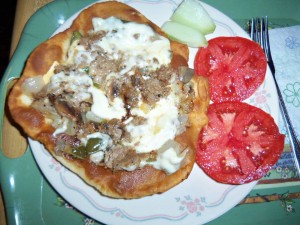 Yeast Fry Bread
1 (.25 ounce) package active dry yeast
1 tablespoon white sugar
1/4 cup warm water
3 cups all-purpose flour
1 teaspoon salt
1 tablespoon baking powder
1 cup warm water
6 cups vegetable oil for frying
Mix yeast, sugar, and 1/4 cup warm water in a large mixing bowl and set aside until the yeast mixture forms a creamy foam layer on top, about 5 minutes. Whisk flour, 1 teaspoon salt, and baking powder in a bowl. Stir flour mixture into yeast mixture by thirds, alternating with 1 cup warm water in thirds, and beat to make a firm dough. Let rest for 30 minutes..
Divide the dough into 8 pieces and roll each piece into a ball on a floured work surface. Roll out the dough balls into large flat round tortillas.
Heat vegetable oil in a deep-fryer or large saucepan to 350 degrees F. Gently place tortillas, one at a time, into the hot oil and fry until golden brown on both sides, turning once, 2 to 3 minutes per side. Drain on paper towels.
Eat with butter – jelly – cinnamon/brown sugar – MAKE TACOS – peanut butter/banana – MAKE PHILLY STEAK SAMWICHES – peanut butter/pickles – ANYTHING
pic is my finished philly steak samwich.. sooooo good!!