also please visit Rosetta's Food Blog.. Rosetta's Sweet Treats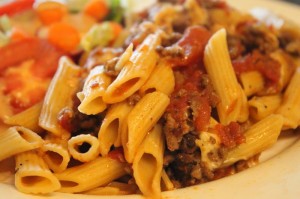 Another Weight Watcher recipe: I decided to make Baked Beef Ziti, and it's 7 points. Granted this is not the best baked Ziti I've ever had, but for a low fat version, it's really not bad. If you want to loose weight and still have things you like, you have make changes and give up some of the richness the regular version has. You can definitely use ground turkey insteaf of lean ground beef if you like. I was satisfied with the ziti along with a healthy salad. Baked Beef Ziti

Ingredients:
12 ounces uncooked Ziti
2 teaspoons olive oil

2 cloves (medium) garlic (minced)

1/3 pound uncooked lean ground beef

1 teaspoon dried oregano

1 teaspoon dried thyme

1 teaspoon dried rosemary

½ teaspoon salt

½ teaspoon pepper

28 ounce canned crushed tomatoes

1 cup (shredded) part-skim mozzarella cheese

Instructions:

Preheat oven to 350F.

Cook pasta according to package directions; drain and set aside.

Meanwhile, heat oil in a medium saucepan over medium heat; add garlic and sauté 2 minutes. Add beef and cook until browned, breaking up meat with a spoon as it cooks, about 3 to 5 minutes, drain off any fat and set pan back over medium heat.

Add oregano, thyme, rosemary and salt and pepper; stir to coat beef. Cook until herbs become fragrant, about 2 minutes. Add tomatoes and bring to a boil; reduce heat and simmer for 5 minutes.

Spoon a small amount of beef-tomato mixture into the bottom of a 4-quart dish (just enough to cover surface); top with half of cooked ziti. Next, layer with half of remaining beef-tomato sauce and half of mozzarella cheese. Layer with remaining ziti and then top with remaining beef-tomato sauce, sprinkle with remaining mozzarella cheese. Bake until cheese is golden and bubbly, about 30 minutes. Slice into 8 pieces and serve. Yields 1 piece per serving. You can spoon it out also instead of cutting in squares.