USING INDOOR SMOKER, MADE TONY NEELY'S SMOKED CHICKEN WINGS

Here's a photo of the chicken wings just going into the Cameron Stovetop Smoker – I made salmon steaks the night before and for some reason didn't think to take a photo. They were also smoked to PERFECTION. This is my NEW BFF in the kitchen!!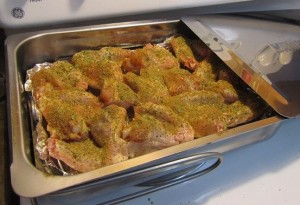 Here's the Youtube of Tony Neely smoking chicken wings. I made this exactly the way he said to (he gives the recipe on the video). I did cut the smoking time down to 85 minutes (not a full 90 min) on my 3rd batch. You have to KNOW your stove and med on my electric stove is about 4 (it's a hot little stove). But once the tiny plumes of smoke stop coming out (they are tiny…and I just put my stove fan on low) then you know it's done smoking and it's finishing the cooking. There was a big 2-legged MOUSE that got into the lower right hand corner of the pan BEFORE I got the photo taken…LOL These were fantttttttttttastic!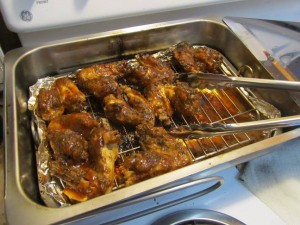 Felicia Lisa

SHOOT.. here's the youtube link… DOH!!!

http://www.youtube.com/watch?v=J0dAHuq8QfI

Tony Neely of Neely's Barbeque demonstrates how to prepare smoked chicken wings using the Camerons Stovetop Smoker on Nashville's News Channel 5.

Felicia Lisa

Thanks! They WERE!..LOL Honestly Serena… it's as EASY as it gets. I almost felt lazy using it…LOL. Takes about 2 min to set up the smoker. Load the meat, sprinkle on the seasonings, slide the lid shut, hit the timer. Done deal… and the tiny bit of smoke that you can smell is good.. it doesn't set off the smoke detectors nor does the house smell like hickory smoke this morning. hehe

Felicia Lisa

I got mine at Amazon about a year ago (paid around $50), but I think if you do some web sniffing you can get them for a little less. This is the big one, and there is a smaller one, but I would only buy the big one. It holds 3# of chicken wings nice. No sense having a little one if you have to run two loads of food through.

Patricia Stover

Did they get brown? I watched the video and in the comments section, 1 person said they don't get brown. Another person said it was so much trouble that it was just easier to do them in the oven lol

Serena Adkins Ellison

yours sure look good Felecia,, did you think it was pretty easy to use? I am interested in buying on to try it out.. my hubby's brother has a huge smoker but this would be great for indoor oven cooking..

Felicia Lisa

Just got back from an over night camping trip with my grandkids… what a crack up. I LEFT from the campground (@ 9:10 am) and went straight to work this morning (I took my work clothes). I'm toast.. but it was SO fun it was all worth it! Serena, you're right… it's an indoor smoker. We also have a good sized $450.00 smoker (pretty fancy), and we often have to brown up things we pull out of there…so.. I don't see that persons review as too worrisome. This is a convenience smoker…a kitchen smoker. I guess it's a taste/cooking preference comment. I've done almost 10# of chicken wings in this thing in the last week, and will probably do another 10 lbs this weekend for our final camping trip of the year. I sure didn't brown the wings up. I felt this thing is beyond easy to use! After I vent the top (when the smoking time is done) I slathered them with Honey Hickory BBQ sauce and just let them rest. They were all completely snarfed – gone – inhaled within minutes! We don't smoke stuff outside in the winter. My hub does a lot of cold smoking on cheeses, but that's done in the fall before it gets cold. Then.. we share it as Christmas gifts with some of our neighbors. Consider this smoker's roll in the kitchen like the microwave is to the kitchen. Very convenient, but you don't get rid of your stove just because you have a microwave. Our salmon steaks had 23 min of smoke put on them, and they were FANTASTIC. Everyone has an opinion.. and I can only share mine. WE LOVE THIS THING. I was just reading about a guy who smokes up his bell peppers, zucchinis, and various squashes. Then he dices them up and adds them to his green salads with some mild goat cheese. I think the sky is the limit with the fun you can have with this smoker. That's my STORY AND I'M STICKIN' TO IT! …lolol

Felicia Lisa

Oh.. another thing? I got to thinking…. I don't want to spend my entire weekend cooking. I like to find ways to serve good food, but still like to have some down time to visit too. For this weekend I'm going to smoke the wings for about 70 minutes (instead of 85-90) the day before leaving, AND THEN finish them off on the BBQ in camp. Just experimenting for fun…. I love to see what I can do with a little of this and a little of that.

Felicia Lisa

Now.. I HOPE my one comment didn't confuse everyone. You cannot "cold smoke" cheese in this thing!! The Cameron TT Smoker runs about 375° when smoking on med heat. That's wayyy toooo warm to smoke cheese. You create yummy cheesy *stalactites* in your regular sized smoker IF IF IF it goes over 120°…LOLOL It literally drips through the smoking grates, but even those accidents were DEEEEEEELICIOUS!!