You have to be certain that ALL of the fat is removed from the meat before cooking.  Photos of fat below..This is not too difficult because the fat is between the skin and the flesh…. sometimes you will get turtle meat that someone else butchered just make sure the FAT is cut off before cooking.. or your soup will be made in vain.
To butcher a turtle you start by chopping off the turtle's head. Be careful because the head will still bite even after it is removed from the body and the body will still crawl away after the head is removed.
Turtles don't die right away.
When the body stops trying to crawl away, dip it in boiling water and scrape off the exterior layer of skin, including the shell. The result will be a bright white carcus, compared to the muddy brown-green you started with.
Next step is to remove the shell. Cut along grove on each side between the front and back legs. It is the narrowest part of the shell.
The tail, neck and all four legs are attached to the top of the shell, remove from shell and you have the bulk of the meat, there is some meat on the bottom shell and top shell.
remove the fat by rolling back the skin and with a  knife and your index finger scrape out the fat.
TURTLE SOUP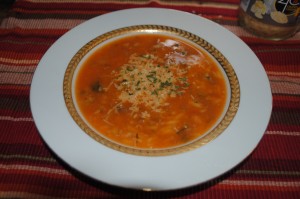 I am using a WV Snapper Turtle.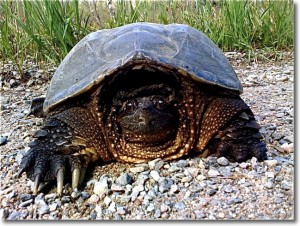 I had the meat in the freezer, this is just some of the meat pictured below.. I have two whole bags full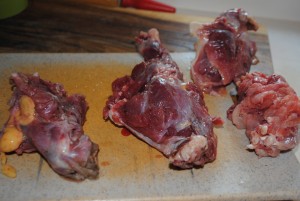 So it was frozen and it had not been cut off the bone yet so I took it out and rinsed it well.. I am now going to put it into some water with salt in my crock pot on high to soak out the impurities and help thaw it at the same time.. (If my turtle was not frozen and was cutting it up fresh I would jsut put in a bowl of water with salt to soak instead)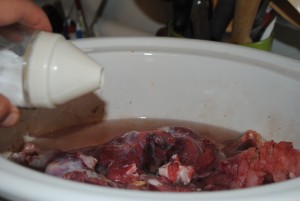 Once you have soaked your turtle and the meat is thawed enough to cut take out onto cutting board and start to separate meat from bone..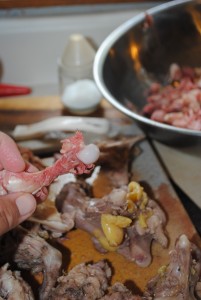 also get rid of any fat that is on the turtle as it is very strong and has a bad odor. I don't want any of that in my soup.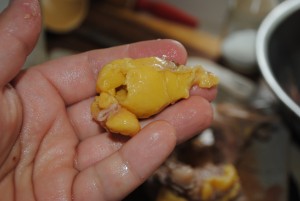 Cut/Tear meat into pieces and put into bowl. Set aside.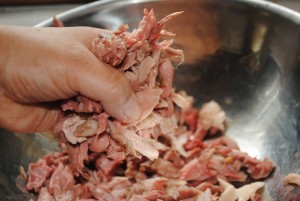 cut up 1 large onion  half the onion and dice up one half small and set aside.. do the other half and set aside in another bowl.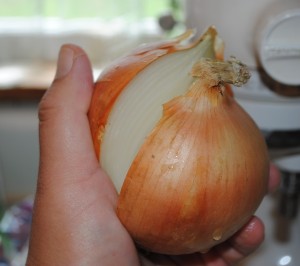 cut up 3-4  stalks celery small dice up with leaves and add about 1/2 cup of the celery  to stock pot put rest in a bowl for later.. add in the stock pot  one of the chopped onion halves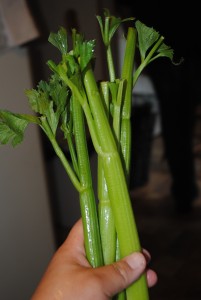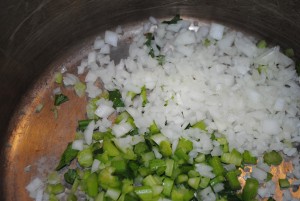 take in a stock pot and add some water about 3 -4  cups and about 5 cans chicken broth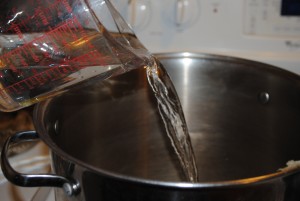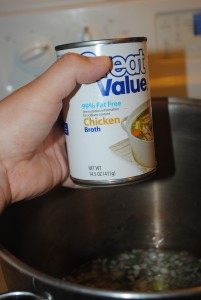 add pepper salt and parsley flakes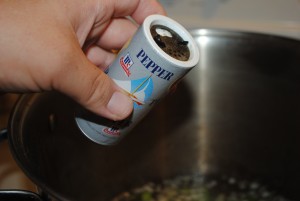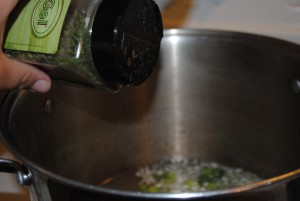 add a quart and a half  of tomatoes.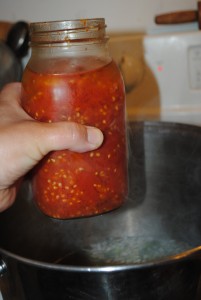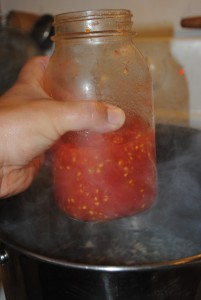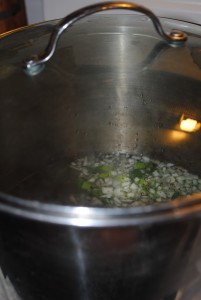 let boil till veggies are tender (at this point you would strain it in the antique recipe but with modern day equipment I just used my emulsion blender)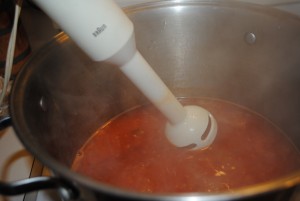 then add  a cup or more of orzo noodles boil till orzo is tender then turn to simmer.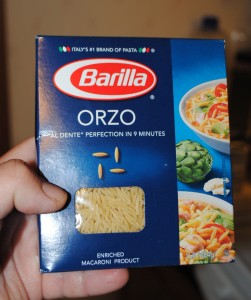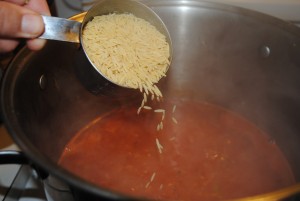 Salt and pepper your turtle meat and mix up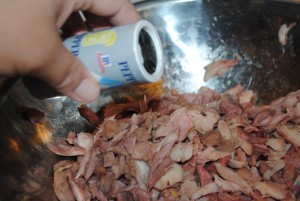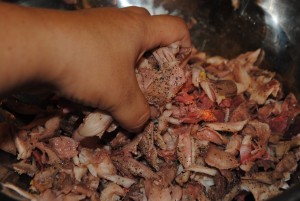 Add rest of your  celery and onion to your turtle meat in big bowl and add salt and pepper mix with hands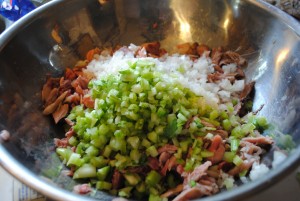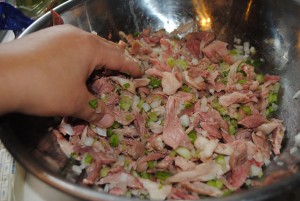 In Iron skillet  turn turtle meat butter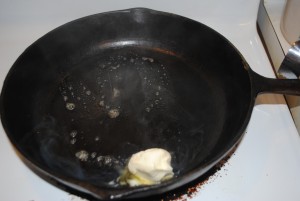 (I have a lot of meat so I have to do this in batches)
Saute slowly until veggies are tender and turtle is browned. season salt and pepper well,
(I know it sounds like I have been adding a lot of salt and pepper but this soup does need it.. I add a little at a time  instead of all at once and that way it ends up just right )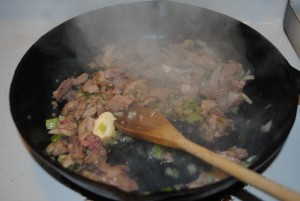 as you saute your batches, put the batches that are done browned into a metal bowl, NOT into the stock pot yet..
turtle is generally very tough so old timers would cut it into small peices with knife..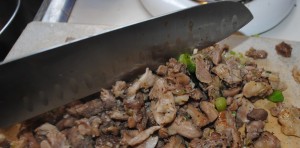 I took a shortcut and pulsed a few times in my Ninja system..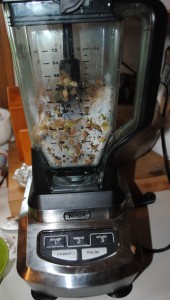 Repeat batches and add turtle to broth and Serve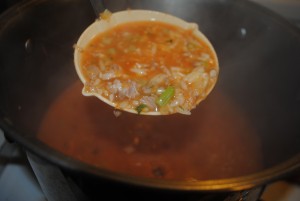 I like it served with Romano Cheese and parsley flakes over top with cheese toast or grilled cheese sandwiches on the side..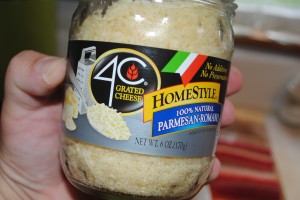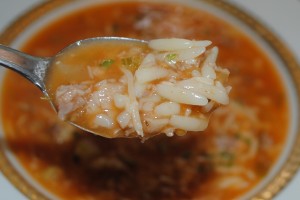 (soup taste is similar to vegetable soup, sounds crazy but if you added a can of corn and green beans you would think you were eating veggie soup)