Recipe and Photo submitted by Pamela Lilly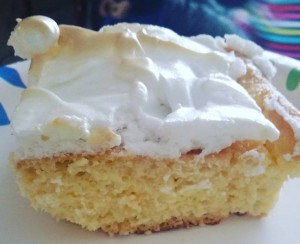 Tres leches (milk cake)
For the cake:
5 eggs (separate the white and the yolk)
1/2 cup of sugar
1/2 cup of all purpose flour
1/2 cup of cornstarch
1 tsp of baking powder
3 tbsp of water
Beat the egg whites until soft peaks form, gradually add the sugar with the mixer running and peak to stiff peaks then add the egg yolks one by one. Beating well.
Sift together the flour, cornstarch and baking powder and add to the egg mixture.
(When you add it mix it in circles and gentle? I don't really know how to explain it or say it in English lol) then add the 3 tbsp of water, one by one.
Bake in a lightly greased and flour 9×13 pan at 355 for 30 mins.
Let cool.
In a bowl mix:
1 can of evaporated milk (I think its 14oz?)
1 can of sweet condensed milk
1 cup of heavy wheaping cream
Poke holes in the cake and then pour the mixture. Refrigerate for 6 hours.
Then mix in a small saucepan mix 3 tbsp of water and 3/4 cup of white sugar, bring to a boil, reduce heat and then cook for about 5 mins. Stirring constantly.
In a bowl beat 3 egg whites to soft peaks then slowly add the hot syrup. Beat until all the syrup has been added and the mixture cools.
Remove the cake from the fridge and and spread the icing on top. Bake in the oven until the icing is brown on top.
I let it cool off a little before we ate it.