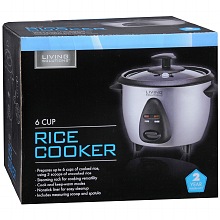 I don't know that anyone has mentioned this before, but when I was on vacation in Oregon someone mentioned that you can easily prepare Quinoa in a rice cooker. Well… my ricer cooker is a little cheapie Salton one (she had a nice Pampered Chef unit). But… I just tossed 1 cu quinoa and 2 cups water in my little rice cooker. I hit it with a little sea salt, and some chipotle seasoning I have. IT WORKED SLICK AS A WHISTLE!!! I'm making a Zesty Quinoa Salad I had on vacation AND I'm not standing around babysitting the Quinoa. I LOVE EASY PEASY!! This recipe is DELICIOUS! 
http://allrecipes.com/recipe/zesty-quinoa-salad/
INGREDIENTS:

1 cup quinoa

2 cups water

1/4 cup extra-virgin olive oil

2 limes, juiced

2 teaspoons ground cumin

1 teaspoon salt

1/2 teaspoon red pepper flakes, or more to taste

1 1/2 cups halved cherry tomatoes

1 (15 ounce) can black beans, drained

and rinsed

5 green onions, finely chopped

1/4 cup chopped fresh cilantro

salt and ground black pepper to taste

DIRECTIONS:

| | |
| --- | --- |
| 1. | Bring quinoa and water to a boil in a saucepan. Reduce heat to medium-low, cover, and simmer until quinoa is tender and water has been absorbed, 10 to 15 minutes. Set aside to cool. |
| 2. | Whisk olive oil, lime juice, cumin, 1 teaspoon salt, and red pepper flakes together in a bowl. |
| 3. | Combine quinoa, tomatoes, black beans, and green onions together in a bowl. Pour dressing over quinoa mixture; toss to coat. Stir in cilantro; season with salt and black pepper. Serve immediately or chill in refrigerator. |
One thing I don't like about making risotto is that you have to babysit it. Honestly.. I laughed out loud when I saw how WELL the cheapie rice cooker handled the quinoa! This salad is a SNAP when the quinoa is made in a rice cooker. Allrecipes has another quinoa with garlic …that's on my potluck list for school too!
March 2023
M
T
W
T
F
S
S
« Feb
1
2
3
4
5
6
7
8
9
10
11
12
13
14
15
16
17
18
19
20
21
22
23
24
25
26
27
28
29
30
31