Tonight's dinner was soooo gooood!!!! Simply mouth watering!! Prior to my surgery I had been experimenting with new crock pot meals. Therefore, as one of my Christmas presents my hubby got me this fantastic Taste of Home Slow Cooker recipe book. It has pictures and everything. LOVE IT. Anyways, I have picked out several recipes from this book to try before I went to the grocery store this past time. I've gotten all of the stuff to make those selected recipes with and will be sharing their success with my facebook friends and family. Today I decided to try the Swiss Steak Supper from page 45 in the book. And O WOW…..simply delicious!!! Joey and I really enjoyed it!!
Therefore, here is the recipe if anyone would like to try it. Hope you all enjoy it as much as we did.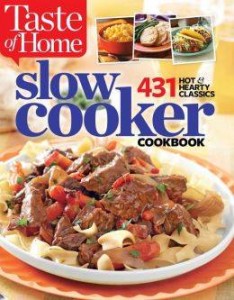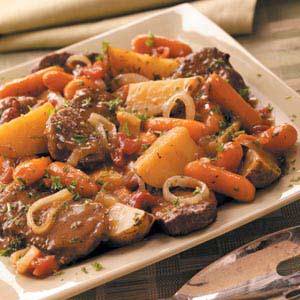 SWISS STEAK SUPPER
Ingredients:
1-1/2 pounds beef top round steak
1/2 teaspoon seasoned salt
1/4 teaspoon coarsely ground pepper
1 tablespoon canola oil
3 medium potatoes
1-1/2 cups fresh baby carrots
1 medium onion, sliced
1 can (14-1/2 ounces) Italian diced tomatoes
1 jar (12 ounces) home-style beef gravy
1 tablespoon minced fresh parsley
Directions:
Cut steak into six serving-size pieces; flatten to 1/4-in. thickness. Rub with seasoned salt and pepper. In a large skillet, brown beef in oil on both sides; drain.
Cut each potato into eight wedges. In a 5-qt. slow cooker, layer the potatoes, carrots, beef and onion. Combine tomatoes and gravy; pour over the top.
Cover and cook on low for 5-6 hours or until meat and vegetables are tender. Sprinkle with parsley. Yield: 6 servings.