Ted say's – I just made my first homemade BBQ sauce. All ready for tomorrow's chicken wings.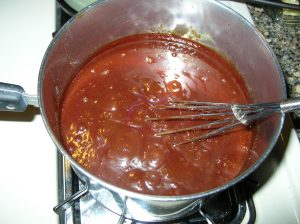 I used Steve Raichlen's from the TV show recipe:
Raichlen_BARBECUE SAUCES, RUBS, AND MARINADES
Sweet-and-Smoky Barbecue Sauce
Use as you would any barbecue sauce, that is to say, brushed on pork, ribs, and chicken toward the end of cooking and poured freely at the table.
CourseAccompaniments
CuisineAmerican
Servings
5 cups
Ingredients
6 tablespoons packed dark brown sugar
1/2 cup cider vinegar
1/4 cup molasses
1/4 cup honey
1/4 cup Worcestershire sauce
2 tablespoons dark rum
2 tablespoons yellow mustard
1 tablespoon liquid smoke
1 tablespoon chile powder
2 teaspoons freshly ground black pepper
2 teaspoons garlic powder
1 teaspoon ground allspice
1/4 teaspoon ground cloves
4 cups ketchup
Coarse salt (sea salt or kosher) and freshly ground black pepper
Servings:
5
cups
Instructions
Combine all the ingredients through the cloves in a large, deep, heavy, nonreactive saucepan and bring to a simmer over medium heat. Cook, uncovered, until all the ingredients are dissolved, stirring constantly, about 5 minutes. Stir in the ketchup and bring to a boil, stirring well, as the ketchup has a tendency to spatter. Add salt and pepper to taste.
Reduce the heat and gently simmer, uncovered, until dark, thick, and richly flavored, 15 to 20 minutes, stirring often. Use right away or transfer to jars, cover, cool to room temperature, and refrigerate. The sauce will keep for several weeks.