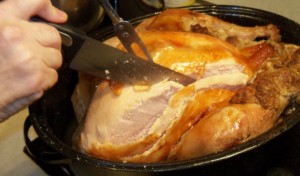 (Shelma's) Mom's Stuffed Turkey and Dressing
Thaw Turkey completely before cooking. (if you have a large bird like 20 lbs you should start early in the week like Sat or Sunday by thawing the refrigerator method. keep it in the packaging till time to stuff.
Day to stuff… take it out of fridge and WASH IT with water rinse inside cavities
Remove giblets from inside turkeys cavity. Reserve them for your dressing. (also buy an extra cup of chicken livers for your dressing to boil with the giblets)
cut gizzard up and boil heart and neck remove meat, throw bone away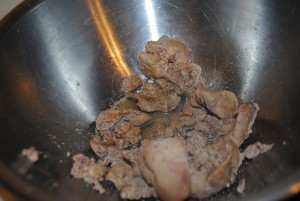 Wash turkey take 1 stick of margarine a tiny bit of oil, and rub all over turkey put rest inside of turkey
salt and pepper your skin on your bird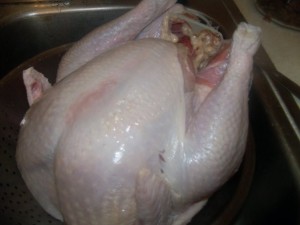 1/2 tsp sage and medium onion.. salt n pepper
3-4 stalks of celery diced. mix with a whole loaf or more of  torn bread
add in boiled meat cut up mix in  CHICKEN FLAVORED stovetop stuffing,
add  stick of melted butter mix well with at least 2 cans of chicken broth.
(go by the feel, mix with your hands if too wet add more bread, too dry more broth) any leftover broth don't waste just pour over the bird after you put it into the bag or pot..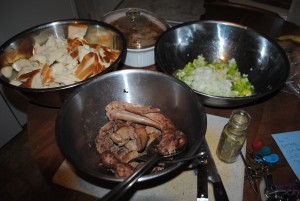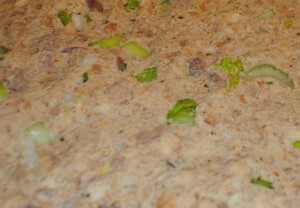 Stuff into turkeys cavity  tie legs shut (what's left over bake in a separate pan)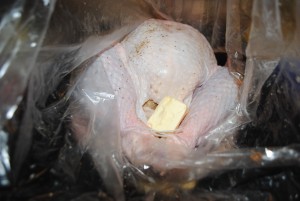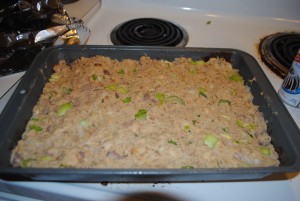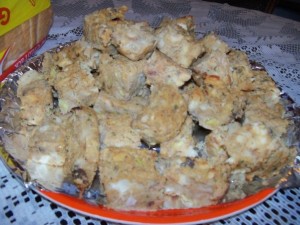 (THIS IS A PIC OF THE PAN STUFFING AFTER IT IS DONE AND CUT)
Have turkey in turkey bag butter outside of turkey and set in Roasting Pan close bag tightly. You can do this the night before you make it even.. just put in the fridge till morning
NOTE: Mom uses the turkey bags a lot… she likes them cause of the moisture they keep in the turkey but we have done them without bags as well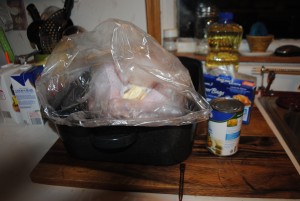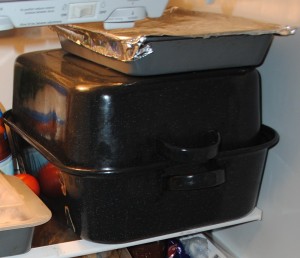 bake on 350 for 4-5 hrs depending on how large a turkey (so it wont be dry put one can of chicken broth or water around outside of bag in pan use meat thermometer before getting out of oven) must register at least 180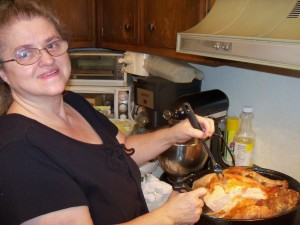 So I made mom's turkey this year… here is my photos of my turkey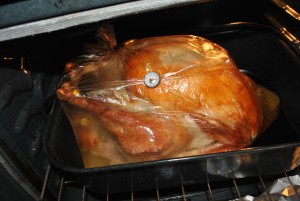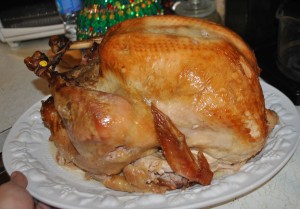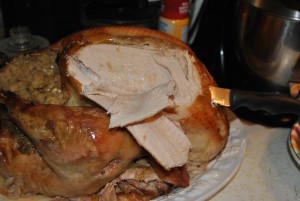 This was my bird AND stuffing this year cause mom was sick… 2012 =)