CANNED BANANA PEPPERS STUFFED WITH PEPPERONI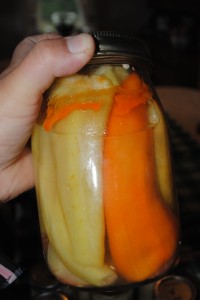 super duper simple and safe.. the vinegar and salt will keep the peppers until time to eat.
First cut of the tops of your banana peppers and get all the seeds out..  use both mild and sweet banana peppers mixed together in each jar for best results.
Stuff the cavities with pepperoni slices and put in wide mouth jars.
cover with white vinegar and add 1/2 tsp salt to each jar
put hot sanitized lids onto jars and water bath 7 minutes in boiling water  (in all actuality Thelma doesn't even water bath hers she said they won't spoil with the white vinegar and salt but I don't trust it so that is why I am putting the 7 minute boiling time just to be safe,… enjoy. Done.