SERENA'S STRAWBERRY CREAM CHEESE BRAID
Using Puff Pastry, and my own Strawberry Sauce, and a little sweetened  Cream Cheese,  I made these delicious pastries in a jiffy.. Enjoy, =) this is a crowd pleaser.
(NOTE if you wish to make your own homemade puff pastry I have a recipe with step by step photos on this website but I warn you it is very time consuming so you may just want to buy the puff sheets for this quick recipe, homemade is fun but definitely not quick)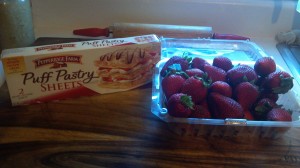 1 box of Puff Pastry  (it will have 2 sheets)
It takes Puff Pastry that is frozen a while to thaw, if yours is frozen you need to go ahead now and spread a little flour on your board and lay out your sheets so they can come to room temp while you work up the rest of the recipe..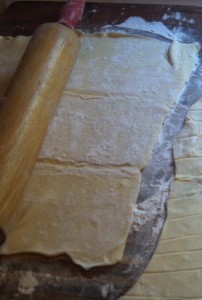 1 extra large carton of strawberries, or 2 small pkgs
Wash, Hull tops, and Cut your strawberries randomly.. some thick some thin slices ..
put in saucepan on stove with 1/8 cup water and about a cup of granulated sugar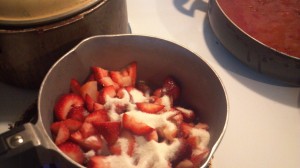 Now just continue to cook the sauce till the grain of the strawberries are out and add in a squirt of clear Karo Syrup.
In a separate cup add 2 Tbsp Corn Starch and a couple Tbsp Water, just enough to stir the corn starch into a liquid.. pour the liquid into the strawberries and stir constantly with wooden spoon turn down heat then when thickened take OFF heat.. put on wooden block straight into fridge to chill.
Now make your cream Cheese Filling
you will use 2 -8oz blocks softened cream cheese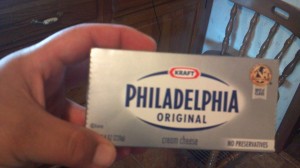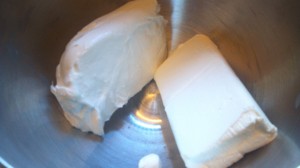 you will add in 2 cups Powdered Sugar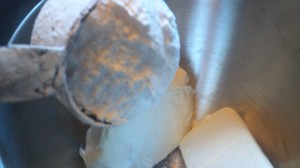 Now start very slow with your mixing or you will have powdered sugar everywhere.. then you can increase speed to a whipping  until all is blended and creamy and add a tad of vanilla for flavor enhancer..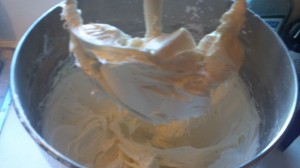 Put your oven to 400 degrees
Take your floured rolling pin and rollout your puff pastry on each side. Cut with pizza cutter strips for your braid, careful to leave enough room in the middle for your filling .. do not cut strips too long or filling will come out of bottom during baking..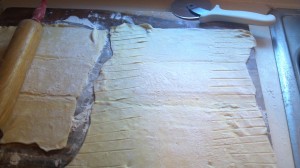 Now you are ready to assemble!!
Put a large dollop of your cream cheese on the ends and one in center with a little of the strawberries and sauce in between
( you will not use all of your sauces, but do not worry, they WILL be used later.. so do NOT try to over fill your pastry or you will have disaster!!)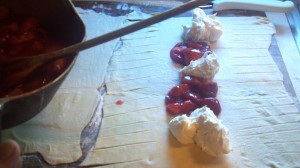 Now you will begin the braid.. mine is a mess today because I had dinner going at the same time and was doing this fast and trying to take pics with my cell phone at the same time hahaha but here ya go.. start first with rolling up the side on one end making sure no holes or gaps are around the bottom or edge.. and then just pull from each side of fringe you have cut making overlapping braids..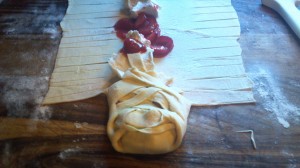 Now just continue to braid, paying careful attention to the other end. and put carefully on sprayed cookie sheet..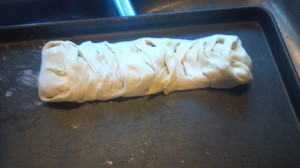 do your other one the exact same way.. place on cookie sheet and put your wash over top.. Can use just egg white, or just milk but, I am actually using one whole egg beaten in some milk with sugar added for a sweet crust.. brush over whole braid and using hands, sprinkle granulated sugar over top the braid, it will stick to the egg wash..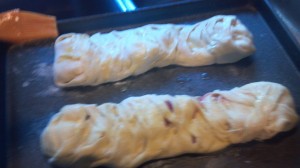 put in 400 degree oven and bake 15-20 minutes or till golden and puffed.
Take out and make your glaze using powedred sugar and a tad of water till mixed thin.. pour overtop the warm not not pastry.. and let SET till glaze sets up..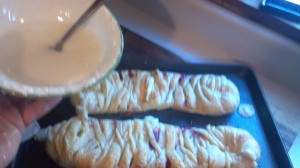 Serve the slightly warm or room temp pastry  over top of a bed of the chilled homemade strawberry glaze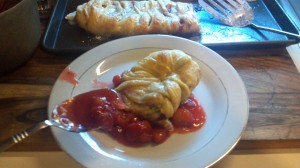 Dollop some of the leftover chilled cream cheese filling on top for the finishing touch..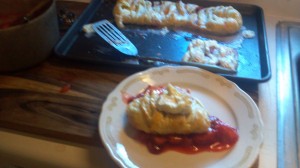 AMAZING!!!!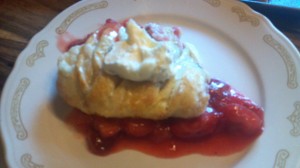 lick your plate good!!!