SPICY SAUSAGE WITH EGG NOODLES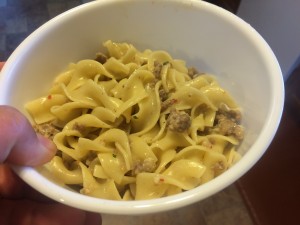 1 pound ground  HOT Sausage
a little salt
pepper
2 cloves minced garlic
3 Tbsp or more chopped onion
red pepper flakes (just a pinch)
pinch Sage
Parmesan Cheese
tiny bit of cooking oil
Egg Noodles
parsley flakes
tab butter
and a bit of the pasta water
Chop up onion small and mince 2 cloves of garlic. add to pan, add a little veg oil and ground hot sausage. Add black pepper, a little sage and a pinch of red pepper flakes (optional for your own heat enjoyment)
Brown sausage leaving some large chunks, don't stir ever second.
Should not be greasy enough to drain
after egg noodles are boiled put noodles into pan and add parsley flakes a dash of pepper, a small tab butter and heavy parmesan cheese. Ladle in some of the noodle water. Stir with wooden spoon add a little more parmesan cheese and serve with mashed potatoes  and peas or  fried green tomatoes.