I can still remember sitting at mom's table as a child.. Fresh in the mind is all the many different pasta dishes mom would make.. One of her pasta meals was a delicious marinara with polish sausage. Ground Chuck was sometimes added to the sauce but today I am leaving out the hamburger.
SPICY ROTINI MARINARA AND POLISH SAUSAGE
Start out boiling your Rotini Noodles in salted water with a tbsp oil (do not over cook.. just till tender but still firm to the bite- aldente) Reserve 2 ladles of the pasta water
Take a half of a medium onion or whole small onion, dice.
and 3 cloves of minced fresh garlic, then  add  a tiny bit of oil and a tab of butter (about 3 Tbsp of butter) to a large deep saucepan.  Saute your onions and garlic while stirring to keep garlic from burning..DO NOT BURN YOUR GARLIC!
Now pour in a 15 oz. can of tomato sauce and fill up the can half way with water and pour that in as well.
Next add in a 12 oz can of tomato paste and fill it up TWICE with water, adding to the pot.. it will look "soupy" but don't worry it will thicken as it simmers later on..
I add salt and pepper heavy handidly. I add about a half a cup or more of parmesan cheese,  a shake or two of parsley flakes,  about 1/2 tsp basil. Add a small small amount of crushed red pepper flakes for a HINT of heat.. less than 1/4 tsp. Add 2 Ladle fulls of your pasta water to bind it all together with the starch. Bring to a bubbling boil then turn down to a low simmer.
This part is optional: You can leave sauce as is and it will be delicious.. but today I took my emulsion blender and blended it to where my onions chunks were creamed into the sauce as one..
Take your  Sausages and heat them a little to get the juices flowing.. then slice them and stir into your sauce
Your Rotini Noodles you now drain off the excess water and shake parmesan cheese over them, salt, parsley flakes and toss in a little butter before adding to your marinara
Toss the Rotini noodles until they are fully covered…
Serve=)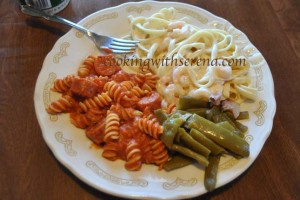 Today I had both Spicy Rotini Marinara  and Polish Sausage with Shrimp Fettucini in Cream Sauce
and a side of Roma Italian Green Beans Country Style simmered in pork fat and butter.