Today's football menu included my
Spicy Italian Soup (you can adjust the "spice" by adding more/less cayenne) and Betty White's Wings (one of my faves).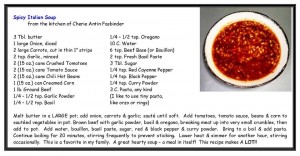 3 Tbsp Butter
1 lg Onion, diced
2 large carrots, cut in thin 1″ strips
2 tsp garlic minced
2 (15 oz) cans Crushed TOmatoes
2 (15 oz) cans Tomato Sauce
2 (15 oz) cans Chili Hot Beans
1 (150z) can Creamed Corn
1 lb ground beef
1/4 -1/2 tsp Garlic Powder
1/4-1/2 tsp Basil
1/4-1/2 tsp Oregano
10 Cups Water
6 tsp Beef Base ( or Bullion)
2 tsp Fresh Basil Paste
3 Tbsp Sugar
1/4 tsp red Cayenne Pepper
1/4 tsp Black pepper
1/4 tsp Curry Powder
3 Cups Pasta any kind  ( I like to use tiny pasta like Orzo or rings)
Melt butter in a LARGE pot; add onion, carrots and garlic. Saute till soft. Add tomatoes, tomatoe sauce, beans, corn to sauteed vegetables in pot. Brown beef with garlic powder, basil and oregano, breaking meat up into small crumbles  then add to pot. Add water bullion, basil paste, sugar, red and black pepper, and curry powder. Bring to a boil and add pasta.
Continue to boil for 20 minutes stirring frequently to prevent sticking. Lower the heat and simmer another hour stirring occasionally
this is a favorite of my family. A great hearty soup and this meal makes a LOT. Enjoy from Cherie
Comments from Tried and True Recipes Facebook