Traditionally Southern Seed Snacks were made WITHOUT sugar… just a salty cracker taste.. kinda bland.. but I make them with a twist.. I use the traditional recipe but add sugar and cinnamon. Although this may LOOK like a cookie.. it TASTES more like a slightly sweetened cracker.. This is a snack.. not meant to be a sweet treat, but it does go GREAT with ice cream.. …
SERENA'S SOUTHERN SEED SNACKS
you will need
Pie Crust Dough (recipe provided below)
Coffee cream mixed with sugar and cinnamon (or you can do what I did.. I used 1 beaten egg mixed with 1 tbsp water and with  granulated sugar and cinnamon mixture)
Caraway, Poppy, or Sesame Seeds, (I use Shelled Sunflower Seeds )
sugar cinnamon mixture
cookie cutters
colored sugar
wax paper
cookie sheet
Directions
make dough to recipe provided below
Roll dough 1/4 inch thick in between wax paper…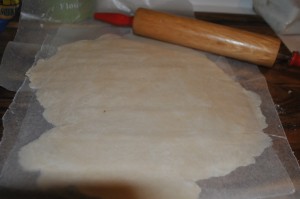 and cut into fancy shapes.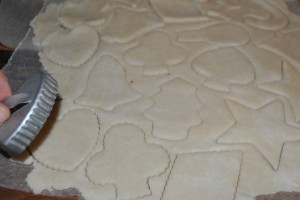 make cinnamon sugar mixture with egg or can use cream… (I used egg & water this time)
Brush tops  with cream or beaten egg mixture with mixture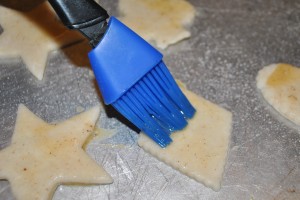 shake cinnamon and sugar  over tops with shaker
Sprinkle with seed of your choice . (I used SHELLED sunflower seeds)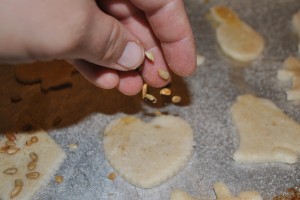 then your colored  sugar or just plain sugar heavily..
.and bake until brown in a 450 degree oven about 10 minutes…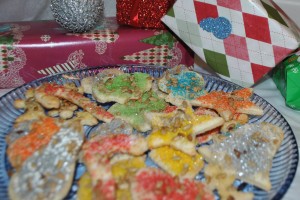 enjoy. sounds very sweet but wont be at all.. will be a sweetend cracker taste.. good eaten with ice cream or grapes cheeses and pineapples..
PIE CRUST RECIPE
2 c all purpose flour
1/2 tsp salt
2/3 c Shortening
1 Tbsp white Vinegar (you may substitute with LEMON JUICE if you don't have White Vinegar)
5-6 Tbsp milk (I use half and half but regular is ok too)
tad bit of sugar to sweeten the pastry
In bowl combine flour salt and cut in the shortening till mixture is crumbly. Sprinkle with vinegar. Gradually add the milk. add in tad of sugar for sweetening the crust… Tossing with a fork until balls are formed. Make into ball and wrap in waxed paper, if yours is not ready to use you can put in fridge for 30 minutes but most time for this recipe you wont have to…