Fried Potatoes*****
Peel potatoes and slice long ways put into a large skillet (try to get them all about the same thickness so they will cook evenly) and add oil salt and pepper well, brown the potatoes with cut up onion, don't burn.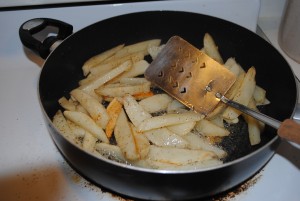 Turn down heat and put lid on and simmer. Occasionally stir potatoes as not to stick may need more oil depends but not SWIMMING in it… or you won't get a good crisp outside… . Make sure potatoes are tender inside before serving salt again.
we had fried potatoes, fried green tomatoes, and fried yellow squash today with our bean dinner..