A perfect winters day to have the oven on ….
Pork Shoulder Roast
Irma's Ivy Lane

-I added a couple inches of water before browning. Temp was 400 degrees.

Once brown, I filled roaster half full of water & covered with lid still at 400.

After 2 1/2 hrs I added several large white potatoes & a lg bag of baby carrots.

Add more water if needed and roast 2 hrs more.( Don't let it go dry) At the end I only had 3-4 cups of liquid which makes a nice gravy.

I use a large black speckled enamel roaster with lid. I have 3 different sizes I use a lot!

Also your roast needs some fat so place it fat side up.

That browns nice & seals in at the juices & flavors.

I browned it in the oven which took an hr or so.
seasoned with salt & pepper….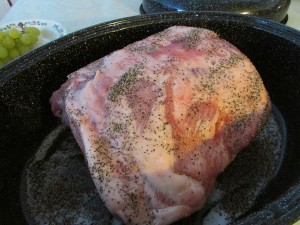 pork roast is nicely brown, now it's covered for a slow afternoon roast. ……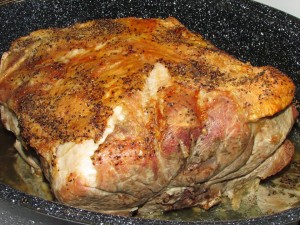 a couple hours before it was done I added baby carrots & potatoes.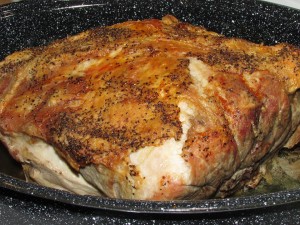 A simple dinner very tasty & tender.