my Shoestring Casserole is super easy…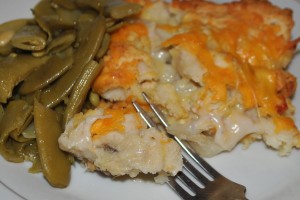 Another Serena Original
I use Shoestring french fried potatoes … didn't measure just took a some frozen from freezer and put in my small but deep casserole dish (9 x 7 x 2.6 glass pyrex)
take 1 10.5 can cream of mushroom soup spread over top of frozen fries
add 1/2  can of cream of chicken soup
I took some leftover shredded chicken and layered over top
In separate bowl:
2 cups Bisquick mix , mixed with a bit of water and a tad of oil.. (not too much.. spread best you can over top of casserole.. put in oven and bake at 400 degrees
when almost done (test corner for shoestring fries to be tender)  add some shredded cheese lightly over top and put foil over top and let cook about 10 more minutes..
enjoy.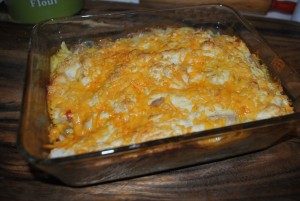 :
I have to rave for a minute here and give thanks for this place and all of the recipes. I made Serena's Shoestring Casserole last night and it was fabulous! I have a family of picky eaters, the queen of them being my 4 year old. It was a huge hit with her as well. I didn't have frozen potatoes so I just used fresh potatoes that needed used up anyways. I also misread the recipe and thought it called to be cooked in a 9×13 dish, so I now have plenty of leftovers as well. Definitely a 5 star dish for our family!