So guy's have you ever wanted to make something and found you didn't have all the proper ingredients to make it so you substituted and sorta did your own thing and ended up making a dish you will enjoy for years to come? well I did that again today.. I love experimenting.. and subbing when I need to just to see what comes out.
Today I started out thinking I would be making lasagna but found I was missing some ingredients mainly the noodles.. I thought ok baked ziti sounded good that would go with my cream cheese I needed to use up.. well no ziti noodles but no big deal, I thought I'll just use some rigatoni noodles.. well I then see I was out of Ricotta and out of my cottage cheese too that I like to put into it.. so I thought hmmmm I want to use this cream cheese up.. I had two that had been in the fridge long enough that it was pushing the limit.. they needed used and I already was craving some good italian… so I decided I would make it up as I went.. here is how it went.. and yes my kids gave it a A+ so I hop you like it as well.. =)
SERENA'S PASTA N' CHEESE CASSEROLE
boil rigatoni noodles till aldente (DO NOT OVERCOOK)
drain add a smudge of butter salt pepper and shake parmesan cheese heavily on hot noodles, add 1 softened cream cheese and stir till all noodles are coated and cheese is melted like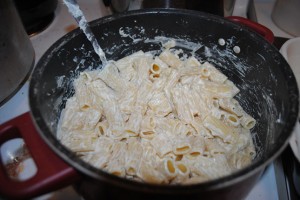 now put your noodles into a baking dish 9×13
Now take another cream cheese softened, and crumble over top the noodles best you can evenly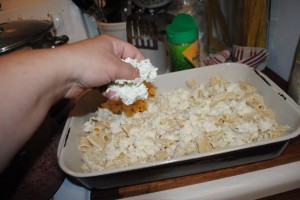 Now rinse out same pot you boiled noodles in and add small minced onion and 2 minced cloves of garlic
with a little veg oil stir constant till you smell your garlic barely start to permeate the air, (be careful not to BURN your garlic or your dumping it) now add in 1 pound ground chuck burger that is thawed and ready to go.. brown your meat with the onions and garlic stirring as you brown so the garlic doesn't set on the heat too long. salt and pepper the meat. Now you drain the fat best you can off the cooked meat…put back on stove and add 1 regular size can Hunts Tomato Sauce plus 2 cans water, and one regular size can Hunts Tomato Paste  then stir…add parsley flakes, basil, a good amount of parmesan cheese and stir …bring to a low boil then let simmer
taste sauce.. make any adjustments needed in seasoning..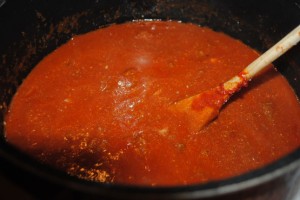 now start ladling your sauce over top of your noodles and use fork to jab around to let sauce drain down around noodles..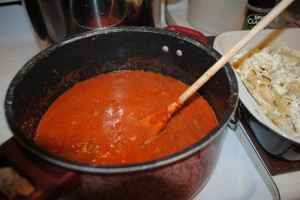 after all sauce and meat is evenly distributed over your noodle casserole
you will now add your mozzarella cheese
put in oven and bake at 350 15-20 minutes or till cheese is all melted nicely..take out and let rest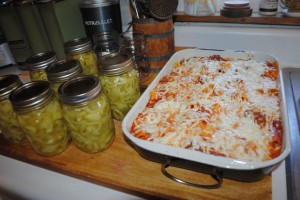 serve with corn or green beans, salad and garlic bread.. FANTASTIC DISH.. this is why subbing and doing your own thing when you don't have all the ingredients is fun and worthwhile most of the time.. it is the joy of cooking in my opinion.. making it work with what you got! =) Serena
Enjoy