SERENA'S ONE STOP ROASTED CHICKEN DINNER
This recipe works great with a Roaster if you have one. If not just find a large Roasting Pan that you would use for a turkey and do it in the oven just the same.
Enjoy, Serena.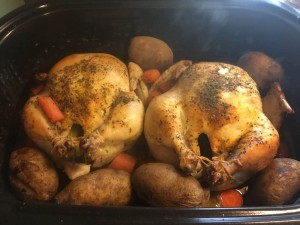 2  (3 1/2-4 lb) whole chickens
2 large celery ribs  chopped
Garlic Cloves
5 potatoes
5 large carrots  chunked
1 small onion, halved evenly and quartered
48 ox box Chicken Broth, which I use gradually throughout.. start with a little bit
Sea Salt
Coarse Black Pepper
Pinch Thyme
Handful of Brown Sugar
Soul Seasoning
Butter
Directions
Wash chicken well with cold water inside and out.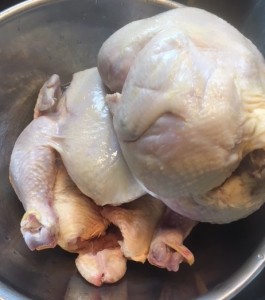 Stuff onion quarters, whole clove garlic, chopped celery, and a egg size of  butter into the cavity of the chicken,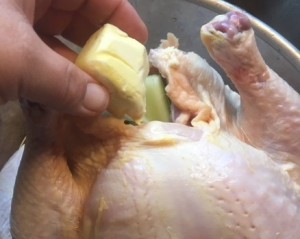 then tie legs together with butcher's twine or heavy cotton string.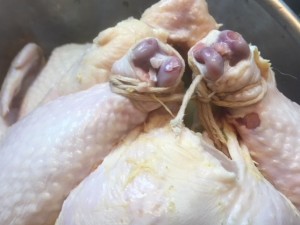 Place the chickens in Roaster (or roasting pan if using oven)  (for extra juicy breast place breast side down on rack).
chunk up whole carrots and place around chickens, wash potatoes and cut slits in center of potatoes, nestle around chickens.
Season Chickens and potatoes with coarse sea salt, and coarse black pepper. Add a touch of thyme by rubbing between fingers to disperse over chickens.
A little Soul Seasoning to complete the seasonings of the chicken.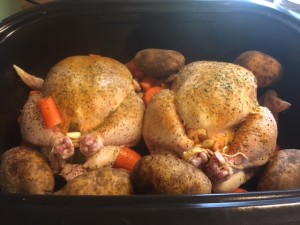 Pour a bit of chicken broth into bottom of the roasting pan (keeps drippings from burning and makes a good base for gravy).
Around the carrots I like to "dust" with my hands, a little Brown Sugar. Don't put too much or it will smoke and burn. just a bit will do on top of carrots.
Set oven to 400 Put lid on Roaster. If your doing in oven try and use Turkey Roaster so you can put lid on.. if no lid is available cover with aluminum Foil Tightly.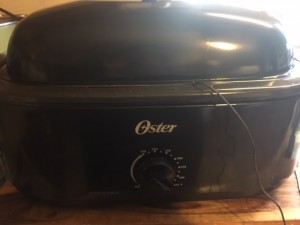 Roast for about 1 hr and 40 minutes, basting with chicken broth, , make sure potatoes stay moist. Keep basting those taters LOL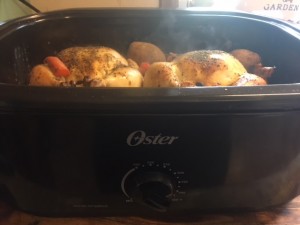 At the end I like to make sure I get a little more brown sugar sprinkled around everything, even the potatoes… not much just use your hands and sprinkle around.
Uncover and roast for about 20 minutes more (uncovered) or until internal temperature reaches 180°.
let rest for about 20 minutes before carving.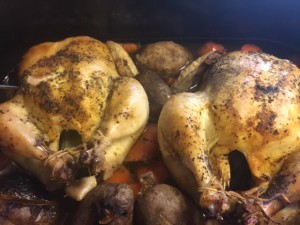 Potatoes are so yummy and tender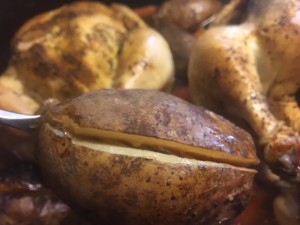 Carrots are best ever