SERENA'S APPLE PIE CAKE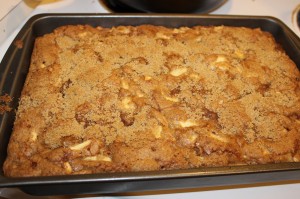 2 1/2 c. all purpose flour
1 tsp Allspice
1 tsp Cloves
1 Tbsp Cinnamon
1 tsp Soda
1 tsp Salt
2 c Sugar
1 c Oil
3 Egg
4 1/2 – 5  cups thinly sliced peeled Apples
pecans and raisins may be added if you desire (optional)
Sift together dry ingredients. Blend oil eggs and vanilla. Gradually stir into flour mixture.. Add Apples and nuts Mixture will be VERY stiff.
spray 9×13 pan with bakers joy or grease and dust with flour lightly
sprinkle brown sugar over top of cake batter before baking
Bake 50 minutes to an hour at 325 do not over cook.. you want it moist but done.
Serve with vanilla ice cream. Enjoy