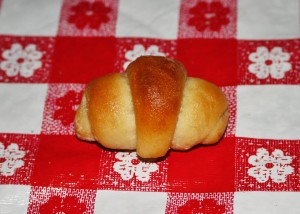 These are the Yeast rolls that I used to get in elementary school. Miss Capps (R.I.P) was the lunchroom baker back then and she used to laugh at me for sticking them in my pocket to eat later. They were big and kinda round back then but I fancied them up a little and made them smaller. They are really great anytime. Here's a printable PDF recipe. Hope you enjoy!!
>> https://drive.google.com/…/0B-e0zqA_r4cCYnlNams5eU96R…/view…
Ingredients
1 cup warm tap water
1 tablespoon yeast
¼ cup sugar
2 tablespoons melted butter
1 egg beaten
3 ½ cups sifted all –purpose flour
1 teaspoon salt
Melted butter for brushing
Directions
In a mixing bowl combine warm water, sugar and yeast and allow to proof for 15 minutes. Add melted butter and egg and whisk. Slowly add sifted flour and salt and mix on low using a dough hook attachment scraping the sides of bowl often, when dough if formed allow to mix for about another minute. Transfer dough to lightly floured wax paper, shape it as round as you can and loosely cover with kitchen towel. Allow to rise for 45 minutes or until almost doubled in size.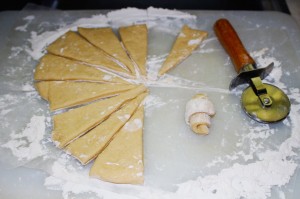 Cut dough in 2, with 1 half lightly flour top and roll out like pizza dough until it is ¼" thick.
*Preheat oven to 350°* slice dough like a pizza into 4 then 8 then 16 pieces. Starting with the large end of the slice roll tightly toward the narrow end and place on ungreased baking sheet, repeat. Bake at 325° for 25-30 min. Remove and brush with melted butter.
Cooking notes
Rolling out this dough is kind of like trying to flatten out a rubber ball. Use your finger tips to flatten and shape dough into a circle then roll thin. If the narrow end won't seal dip your fingertips in water and rub on dough and lightly press down. Serve these bad boys hot!
Hope you enjoy, Andy.