RAQUEL'S 7 GRAIN BREAD WITH EVERYTHING BAGEL TOPPING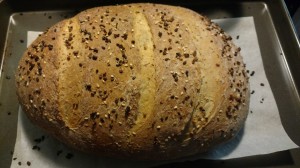 7 grain bread with everything bagel topping
1/2 cup unsweetened multi-grain cereal (such as 7-grain)
2 cups boiling water
1 envelope dry yeast
4 1/3 cups (about) bread flour
1 tablespoon olive oil
1 tablespoon dark brown sugar
1 1/2 teaspoons salt
2 teaspoons sesame seeds
2 teaspoons flax seeds*
2 teaspoons poppy seeds
2 cups water
PREPARATION
Place cereal in large bowl.
Pour 2 cups boiling water over. Let stand until mixture cools to between 105°F. and 115°F., about 20 minutes.
Sprinkle yeast over cereal.
Add 1 cup bread flour, oil, sugar and salt and stir until smooth. Gradually mix in enough remaining bread flour to form dough. Cover dough; let rest 15 minutes.
Turn out dough onto floured surface. Knead until smooth and elastic, adding more flour if sticky, about 10 minutes. Oil large bowl.
Add dough to bowl; turn to coat. Cover bowl with clean kitchen towel. Let dough rise in warm area until doubled, about 1 hour.
Mix all seeds in bowl. Punch down dough. Turn out onto lightly oiled surface. Knead briefly. Shape into 12×4-inch loaf.Sprinkle baking sheet with 2 teaspoons seeds. Place loaf atop seeds. Cover with towel. Let rise in warm area until almost doubled, about 30 minutes.
Position 1 oven rack in center and 1 just below center in oven.
Place baking pan on lower rack and preheat oven to 425°F.
Brush loaf with water.
Sprinkle with remaining seed mixture.
Using sharp knife, cut 3 diagonal slashes in surface of loaf. Place baking sheet with loaf in oven. Immediately pour 2 cups water into hot pan on lower rack in oven (water will steam).
Bake loaf until golden and crusty and tester inserted into center comes out clean, about 35 minutes.
Transfer to rack and cool.(Can be made 1 day ahead. Wrap in plastic; store at room temperature.)
Instead of the seed topping called for, I just used Trader Joe's Everything Bagel topping. I did not put it on the pan, I just brushed the loaf with water and sprinkled it on.