QUICK GLAZING A FULLY COOKED HAM
large 15 lb Tavern ham .. put in roaster in oven with a tiny bit of water in bottom , lid on and roast at 350 2 to 2 1/2 hours or according to the weight of your ham..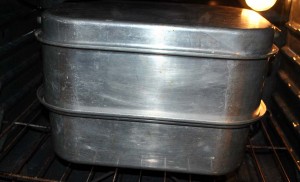 about 30 min before ham is to come out.. take it out and  put your glaze over top,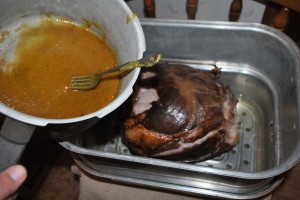 pat brown sugar and white sugar over that then stick back in to finish it's last 30 minutes uncovered..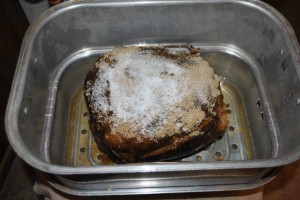 NOTE I usually do one last double coating of glaze same way only leaving out the mustard and using more honey.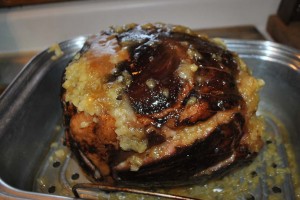 Make sure after you cut your ham and put on platter to ladle some of the ham juice over top of it and to also put the pineapple chunks over it..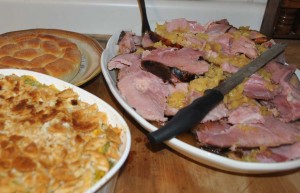 Quick Glaze
1 tsp honey
1 20-ounce can pineapple slices or chunks , juice reserved
1 cup packed light brown sugar
2 tablespoons yellow mustard
combine the brown sugar, mustard and just enough of the reserved pineapple juice to make a thick glaze. Spoon the glaze over the ham and bake for the remaining 30 minutes.
Take ham from the oven, slice it up put on serving dish and pour over remaining glaze (I make a double portion to pour over) and pour over pineapple chunks.. serve warm..