Prem has his OWN recipe blog.. please go to 
www.easyfud.com
to check out his recipes.. I am posting this particular recipe of Prems, because he has just entered this recipe  into my Cook Book Giveaway on Tried and True Recipes Group on Facebook…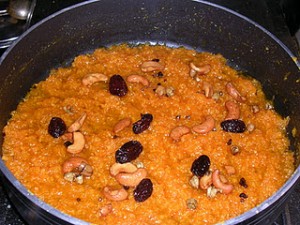 Carrot Halwa or Pudding is famous dessert in India prepared with grated fresh carrot, milk, ghee and topped with fried cashewnuts, dry grapes and crushed cardamom powder. This dessert is prepared during most of the special occassions. This dish is rich in Vitamin A and other essential nutritions as it contains carrot, milk and ghee. I prepared this yesterday for my wife's birthday which came out delicious. Try this simple dessert and enjoy Cooking!!
Ingredients:
Carrots                                1 kg
Milk                                     1 1/2 litre
Sugar                                    400-500 gm
Cardamum powder                1 tsp
Cashewnuts                            10 to 12 nos
Kiss miss(Dry grapes)          6 to 8 nos
Saffron                                    few flakes
Ghee                                     2 tbsp
Procedure:
1. Peel and grate carrots using a grater.
2. Mix milk and carrots in a heavy sauce pan. Boil till thick, stirring occassionally. Once it starts thickening, stir continuously.
3. Add sugar, 1 tbsp ghee and cook further till thickens and ghee comes out.
4. Heat remaining ghee, add cardomom, cashewnuts, saffron and kiss miss. Stir on low heat till the cashewnuts turn into light brown colour and kiss miss enlarges.
5. Add it to the sauce pan, mix well and Serve hot.