Bak Kwa (Chinese Pork Jerky)
these are different from American beef jerky ,,,the difference here with this Chinese pork jerky is that its not cured like beef jerky nor dehydrated. Its usually grilled over charcoal fire to get the slightly burnt edges for extra flavor but since my grill is covered under snow, I have to bake in the oven instead and it works out well.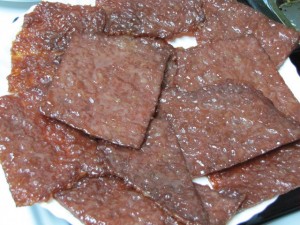 1 kg. ground pork
1-1/2 tbsp. soy sauce
1-1/2 tbsp. fish sauce
200 gm. sugar
1/2 tsp. 5 spice powder
2 tbsp. Chinese rose wine (mei kuei lu)
1 tbsp. oil
Marinate meat with all ingredients. Stir together to get coated evenly. Set aside for 4 hours. Spread meat thinly on baking sheet and bake at 255 degrees for 20 mins. Then increase oven temperature to 355 and bake for another 15 minutes, flip over half way. Cut into pieces when done. Enjoy! The traditional way is to charcoal grill it.

Alexandra Lim

you can get it at the asian store. Sometimes I can even find it at our regular grocery store in the asian aisle. Its salty like soy sauce but it has a more pungent smell … won't be the same if you don't use it

Alexandra Lim

If you can't find the Chinese rose wine, you can substitute it with Shaoxing wine which is more easily available. I had to pay top $ for the Chinese rose wine and only after searching high and low for it for a long time!