Candy made last night, my children always loved it, only make it at Christmas.
Photo below is without the cocoa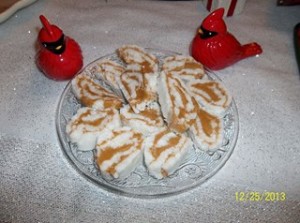 POOR MAN'S CANDY
1 small potato
1 pound powdered sugar
2 heaping tbsp unsweetened cocoa
peanut butter
Peel and boil potato.
When cooked, mash with fork in a large bowl. Add about 1/4 cup powdered sugar and mix. It will turn to liquid; at this point add the cocoa. Keep adding powdered sugar until pliable (amount will vary depending on potato size).
Once pliable, roll out on wax paper to approx 6″ wide and as long as needed. This should be fairly thin.
Spread peanut butter over entire surface, roll into a log and slice in 1/4 inch slices. Enjoy!