RECIPE SUBMITTED BY El Mundo de Tara
My food today,a recipe very typical in Spain.
Hope you like!! 🙂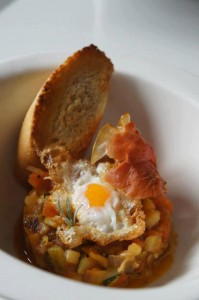 Pisto con Jamón y Huevos de Codorniz
4 quail eggs

2 slices of ham

1 green pepper

3 tomatoes, peeled

1 onion

½ zucchini

1 clove of garlic

Oil Extra olivaVirgen
salt

Sauté in a pan with the olive oil, chopped onion and bell pepper and sliced garlic. When set to brown add the tomato, peeled and diced and minced zucchini. Season it and let it cook.

Fry the quail eggs in hot olive oil until browned on the clear edges.
Wrap the ham slices abrsorbente paper and take it to microwave on high for 30 seconds.
We toasted slices of bread and serve the ratatouille accompanied quail eggs and crispy ham.