PINEAPPLE SUPREME CAKE 
Make a yellow butter cake and add Pineapple flavoring
(Or you can just use a Duncan Hines Pineapple Cake Mix)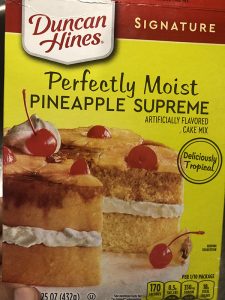 YELLOW  BUTTER CAKE
2 c SELF RISING flour
1 1/4 c white sugar
1/2 c. shortening
1 c. half and half milk
2 eggs
1 tsp vanilla
add 2 tsp pineapple flavoring
350 degree oven
Cream shortening and sugar beat in eggs. Add flour milk and vanilla.
Beat till smooth batter. Pour into prepared 9×13 deep dish  and bake 20-25 min according to the pan your use and the oven… careful or you will over bake and it will be dry.
 let cake cool completely 
Make your Pineapple Fluff frosting 
Directions:
in Mixing bowl add 1 can of Sweetened condensed Milk
add 5 cap fulls  of Lemon juice
add 2 Tsp of  Watkins Coconut Flavoring
mix well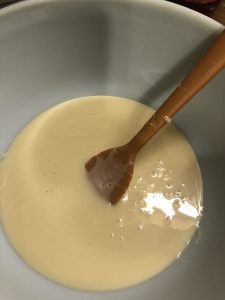 add in 1 can of Libby's Crushed Pineapple with juice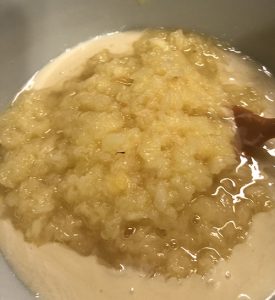 Fold in a small container or half of a large container of cool whip
next add in 1 whole 10 ounce bag of mini marshmallows and fold in.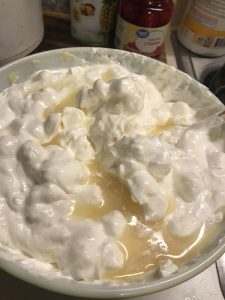 in your palm add some thinly sliced toasted almonds and squeeze till they break small and then add into the mix.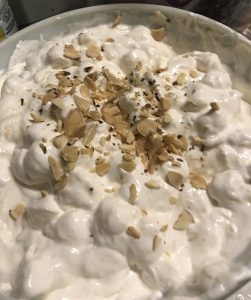 if you have it, grab about three TBSP of shredded coconut and add to the mix.. fold it all in and put into the fridge to let it all set up and thicken, the marshmallows will expand a little and the flavors will all meld together almost into like a thick marshmallow pudding..
(I have some lemon curd filling  right now so I am using it but not needed otherwise just FYI)
SO I am spreading a thin layer of my lemon curd on my pineapple cake that is cooled totally
and my chilled Pineapple Fluff Frosting will now go over top of the cake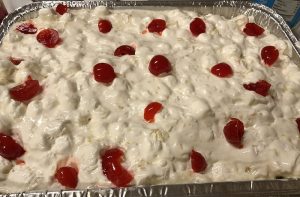 next I will get some maraschino cherries and cut them in half and place on top for a little color and extra texture. you can also add more of the toasted crushed almonds to top if you desire or leave as is.
Enjoy
October 2023
M
T
W
T
F
S
S
« Sep
1
2
3
4
5
6
7
8
9
10
11
12
13
14
15
16
17
18
19
20
21
22
23
24
25
26
27
28
29
30
31