MOM'S PICKLED EGG RECIPE
(My mother still makes this today)
Boil Eggs about 2 – 2 1/2 dozen. in salted water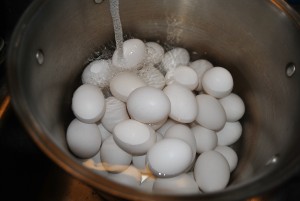 Peel them and rinse.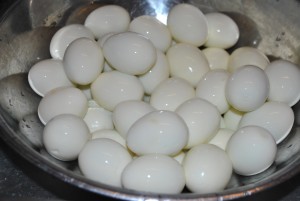 using same rinsed out stock pot ..add about 4 – 6 jars of Whole Pickled Beets (Mom likes the ones in the glass jar best.. if you have home canned beets even better =)
put red cider vinegar 4 cups,
3 cups sugar
1 Tbsp. mixed pickling spice.
Bring mixture boil
Note: do not add any water to this recipe
add eggs to boiling beets, careful not to splash on clothing as it will stain
Allow to boil only FIVE minutes.. no longer or eggs will be tough
ladle EGGS and beets into glass jars
first…..
then the liquid. will be very hot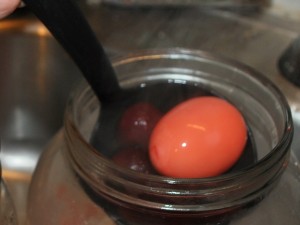 try and make sure your eggs are under the liquid. if one or two stick out at top that is fine.. just remember to turn them so all sides will pickle..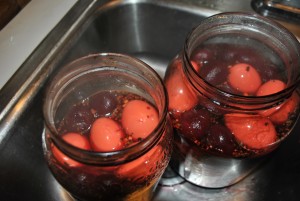 Screw tightly fitting lid on… Let set for a day or two then refrigerate.
they are better the longer they set.. Grandma let hers set a week before eating but mom said she never could hold out that long so after maybe two days they are good to go.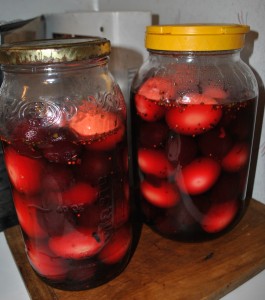 Comments
Amanda NayNay Ennis
from Tried and True Recipes on Facebook wrote
This is exactly how I make my pickled eggs…grannys recipe! yum! Got me a big jar in the fridge now!
Kenny Tammy Wallace
from Tried and True Recipes on Facebook wrote 
That is how I made mine also…but we only use 1/3 cup of sugar…just because we like them tart! 🙂
October 2023
M
T
W
T
F
S
S
« Sep
1
2
3
4
5
6
7
8
9
10
11
12
13
14
15
16
17
18
19
20
21
22
23
24
25
26
27
28
29
30
31