Peanut Butter-Nutella Pie
1 8 oz cream cheese
2 cups powder sugar
1 8oz whip cream
1 cup peanut butter
1/4 cup Nutella (large scoop)
tiny bit of milk
skewer
1 graham cracker pie shell or Oreo Pie Shell
mix together everything except for the Nutella and the milk.. you will have a creamy peanut butter filling
put this in your pie shell gently.. careful as it is thick.. I spread mine with a rubber spatula.
Next take your Nutella in a small bowl and microwave.. be careful as it can burn easily.. microwave just enough to soften a little.. maybe 10 seconds if you have a good microwave.. take out and add a tiny bit of milk.. just enough to whip your nutella into a spreadable fudge .. not too runny.. not too thick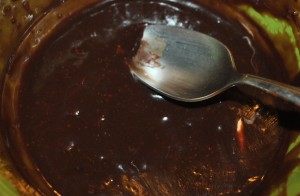 .
Next you will take the tip of a knife or end of a spoon and starting in the center .. draw a circular pattern until you get all the way around the pie…..
Next you simply take a spoon of chocolate and trace the pattern by dropping chocolate over where you drew… doesn't have to be perfect.. the chocolate will seep in the grooves you cut….
Next you take your wooden skewer and starting from the center of the pie drag down … creating the effect of a design..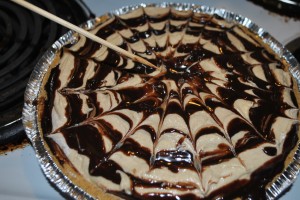 You now put the lid on your pie and seal edges tightly.. put in freezer to completely freeze.. and once frozen you may cut and enjoy!!
You can take it out once frozen solid and put into a prettier pie plate if you wish..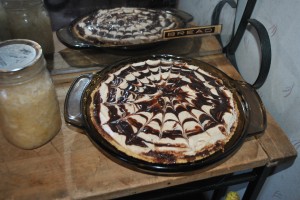 Cut and enjoy.