I had a lot of peaches stored in my fridge and needed more room, so some of the peaches had go. I saw this recipe in the same Mennonite cookbook 've been making a few things from lately and decided to also give this recipe a try. I took them to work and they loved them. I think they are best right out of the oven with butter…mmmmmmm so yummy. "Peach Muffins." http://rosettassweettreats.wordpress.com/2012/01/16/peach-muffins/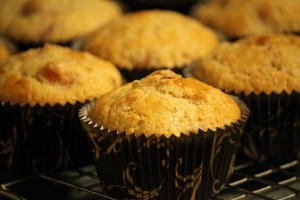 Ingredients:
2 cups flour
2/3 cup sugar
1 Tablespoon baking powder
1/2 teaspoon salt
1/4 teaspoon cinnamon (I used 1/2 teaspoon)
1 egg
1 cup milk
1/4 cup shortening, melted (I uses Crisco)
1 teaspoon lemon juice
1/4 teaspoon vanilla (I used 1 teaspoon)
1 cup diced peaches
Directions:
Combine dry ingredients.
Beat egg; add everything but peaches.
Stir into flour mixture.
Fold in peaches.
Bake at 400 F for 15 minutes.
Makes 15 muffins.
Recipe from the cookbook "The Basics and More Cookbook."
Recipe was submitted to cookbook by:
Diane Bauman, Listowel, Ontario, Canada
September 2021
M
T
W
T
F
S
S
« Jul
1
2
3
4
5
6
7
8
9
10
11
12
13
14
15
16
17
18
19
20
21
22
23
24
25
26
27
28
29
30