Oven Fried Chicken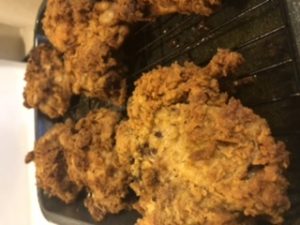 I never get tired of chicken. I like to make it all different ways.
enjoy this less stressful way of making fried chicken on a day when you have more to do than stand over a hot fryer
this frees up 40 minutes to get sides and dessert done or even time to fry more chicken if your having a large group over and you want all the chicken done at once
you can be frying while the other batch is in the oven baking and no one  will be the wiser
in one bowl you will add the following
 2 eggs
1/4 cup water
1/2 cup bleu cheese dressing
3/4 cup Franks Red Hot Buffalo Wing Sauce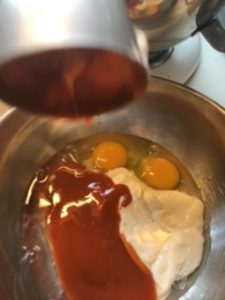 in another bowl you will add
about 2 cups or so is self rising flour
garlic powder
black pepper
a little red pepper flakes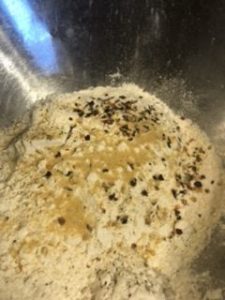 for this recipe I am using
1 family pack of bone in skin on chicken thighs
Rinse your chicken pieces with cold water
I like chicken thighs the best. Moist and they always have a better taste to the meat in my opinion. But use what you like.
I lay my pieces on a cookie sheet and I add
black pepper,
salt
a sprinkle of red pepper flakes,
and today I am trying a spice my friend Raquel Siles sent me all the ways from Oklahoma.
called
Head County Championship Seasoning. Original.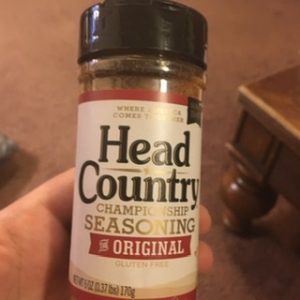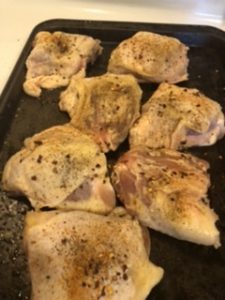 using a Cast Iron Dutch Oven and some vegetable oil, heat your oil. Must be hot enough or all your breading will fall off
Also now is a good time to preheat your oven to 350 because this will go super fast
have you a  baking pan with a rack inserted as well, ready to go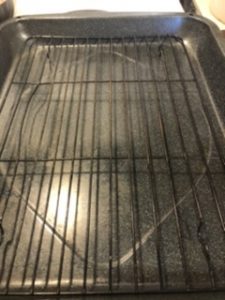 Directions
take a piece of chicken and coat in the wet mixture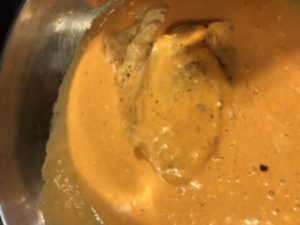 dredge in the flour mixture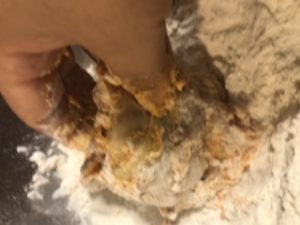 shake off excess and drop in oil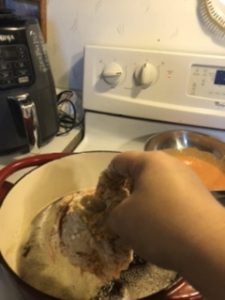 fry two pieces of chicken in the oil 3 minutes
then take out with metal tongs and place on the rack in your baking pan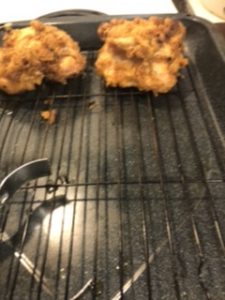 continue until all chicken is on rack

sprinkle with salt and place in oven at 350 for 45 minutes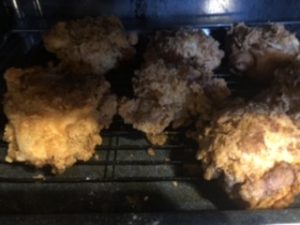 take out let rest while you finish sides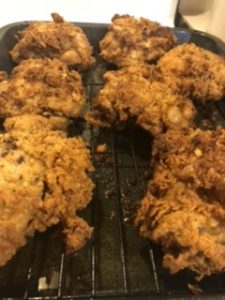 enjoy
‌