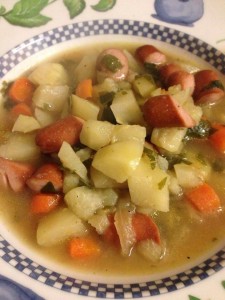 Made my grandmothers soup: Oma Schreiter's Kohlrabi Soup
8 small young Kohlrabi roots with leafs
2 medium potatoes
2 carrots
1 onion
3 cloves garlic
1 bag Cocktail sausages
2 cubes beef broth
2 bay leafs
1 spoon marjoram
Pepper and salt to taste
Cut leafs off of kohlrabi – keep the nice ones. Remove stems and slice leafs, wash.
Peel Kohlrabi, slice and chop into cubes.
Peel onions, garlic, potatoes, carrots and chop same size as Kohlrabi.
With a little olive oil, simmer onions and garlic until light brown. Add Marjoram.
Add rest of veggies and Bay leafs.
Add broth and water.
Cook until veggies are tender, but not overdone. Add leafs, sausages at the end and season.
Serve with fresh bread.
This recipe comes from my Grandmother Else from Slesia/Germany.
October 2023
M
T
W
T
F
S
S
« Sep
1
2
3
4
5
6
7
8
9
10
11
12
13
14
15
16
17
18
19
20
21
22
23
24
25
26
27
28
29
30
31