Okay so this recipe has been floating around and I thought it looked and sounded good.. so I gave it a try. I have to say, although it isn't bad tasting at all, it didn't live up to my expectations either. I thought the texture a might crumbly and grainy, but hey when your making no bake fast and simple what do you expect right? I do recommend this for you to do with kids, I think it is perfect for children to have fun learning to measure and get used to the kitchen without involving the oven.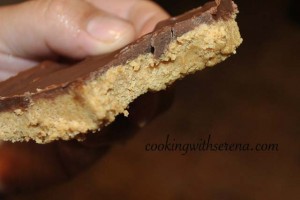 NO-BAKE PEANUT BUTTER BARS
1 cup salted butter (melted)
2 cups graham cracker crumbs
1/4 cup brown sugar
1 3/4 cup powdered sugar
1 cup peanut butter
1/2 tsp. vanilla
1 (11 ounce) bag milk chocolate chips or you can use chocolate bark
Combine all ingredients, except chocolate chips in a medium sized bowl. Stir until the mixture is smooth and creamy.
Pour peanut butter mixture into a 9×13 pan.
Melt chocolate chips in the microwave  just till starts to melt.. stir rapidly with fork, may need to put back in microwave a few more seconds then stir rapidly again till smooth.. NOTE it is VERY easy to burn your chocolate
Stir chocolate and pour over the peanut butter mixture using a rubber spatula
Spread chocolate with a spatula over top of mixture evenly..
Refrigerate bars for one to 2 hours. Cut while bars while cold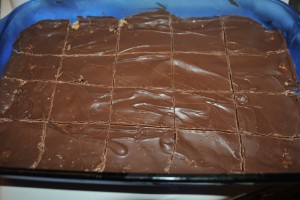 If you'll notice, I was not too happy with how crumbly some of them were.. not all of them were just some.. so maybe next time I will add about 3 tbsp more of melted butter ..