So I made mom's BBQ Recipe last night for an easy Sunday Dinner today. It turned out great. Hot Lazy Days are PERFECT for this! You will need to plan ahead though. Get it going the night before, and if you have a large crowd you need to plan accordingly by making sure your meat will "FIT" into your slow cooker. I actually have a very large capacity one so I don't really have to worry about that but I just wanted to make you aware that some of these beef roasts are big especially if you are doing two at once. Your lid must fit tightly.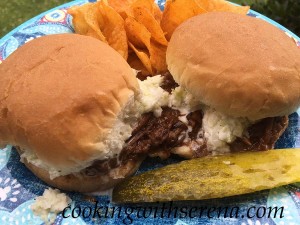 MAMMA SHELMA'S HOMEMADE BEEF BBQ & SLAW
Ingredients for BBQ
No real measurements here – she just makes it sorry
1 BONELESS BEEF ROAST (Can use Bone in as well I use two roasts if feeding a larger crew)
Yellow Mustard about 4 good squirts
1/2 bottle of ketchup or more
Brown Sugar about 1/2 box or more (according to how much bbq your making)
1 small onion chopped
Salt
Black pepper
3 garlic cloves minced
Cup of water
Directions
Place meat in crock pot ( can throw in frozen if like.. I start this the night before so it can be slow cooking all night )
Salt
Pepper
Add onion and garlic
Add water
Put lid on tightly and let cook till falling apart tender.
Fat if any should melt right into their.. if not pull it out
If you did s none on roast, pull out bone.
Pepper again . Using forks pull apart any large clumps of meat.. should be so tender it just falls apart.. if. It, it's not done keep cooking.
When tender to fork, you leave juice unless it's excessive. You can drain a little bit if it's a lot, otherwise leave juices, there's your flavor.
Now add in your mustard and ketchup
Add in brown sugar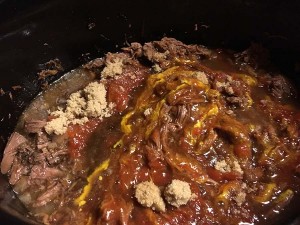 Mix up and taste for any adjustments.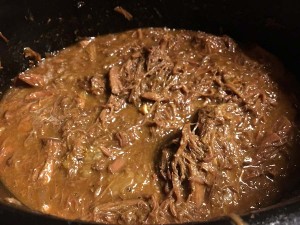 Serve on warm buns with homemade slaw over top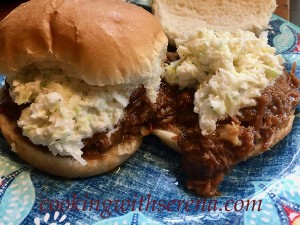 HOMEMADE SLAW
Take one whole large head of cabbage and shred with hand shredder into a large bowl.
Shred small onion in same bowl Add real mayonnaise,
Add a little salt and a lot of black pepper to taste and add in a goodly amount of white sugar . Stir .. taste. Adjust if needed and enjoy