MOIST CHOCOLATE POUND CAKE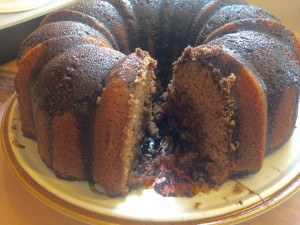 3 cups all purpose flour
1/2  tsp baking powder
1/2 tsp salt
4 Tbs cocoa
3 cups sugar
5 whole eggs
2 sticks butter
1/2 cup shortening
1 cup milk
2 tsp vanilla
Sift together flour baking powder salt and cocoa.
Cream butter and shortening.
Add sugar and eggs alternately. Flour and milk alternately. Bake at 325 degrees 1 hour or longer till firm but leaving the very center quite moist.
Take out of bundt pan and drizzle with chocolate icing while cake is warm.
Tastes like a brownie sort of..