Note: some people call this recipe Cherry Mash also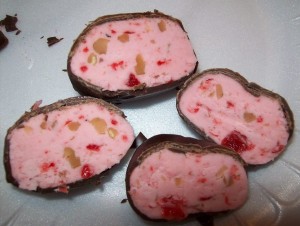 recipe that I promised to post. This recipe has been in my family for over 60 years; I don't know where my mom got it from. I hope you'll try it; we usually only make it at Christmas. It is a little time consuming but well worth it when you taste the results. Everyone I have ever given these to absolutely falls in love with them. If you search the name of this online, it will give you a totally different recipe so here goes:

MARTHA WASHINGTON CANDY
1 stick butter
1 lb. confectionary sugar
Marashino cherries (however many you want; but cut into small pcs and well drained; I keep putting them on paper towels until they are dry or you will have to add more conf. sugar)
Walnuts-cut into small pcs
Mix the above ingredients together; add more confectionary sugar until you can roll the mixture into small balls and they're no longer sticky; put balls into refrigerator.

Chocolate for Dipping:
4 squares of semi-sweet chocolate or 1- 12 oz. pkg of chocolate chips
Approximately 1/2 bar of paraffin wax
Melt over double boiler. (You can substitute this for the dipping choc you can buy now but it wasn't available back then)
Take about 6 balls out of the refrigerator at a time and dip them in the choc, place on wax paper. I use two long wooden skewer sticks to dip mine and shake off excess chocolate onto side of pan.
*Dip a few and sample and make any adjustments to amout of paraffin wax as I don't like them to be too waxy tasting.
Repeat this procedure until all the balls are dipped.
Take a small spoon or use a skewer and cover the holes in your balls.
Keep refrigerated.
Bon Appetit! *These are VERY Rich tasting so make the balls small.

Orange Cremes: Using same base of butter and confectionary sugar, add 1 TBSP pure orange extract and 2 TBPS Orange zest.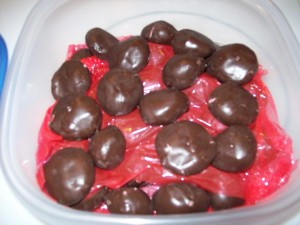 April 2021
M
T
W
T
F
S
S
« Mar
1
2
3
4
5
6
7
8
9
10
11
12
13
14
15
16
17
18
19
20
21
22
23
24
25
26
27
28
29
30