OMG I have to tell you guys this recipe for Marshmallow Oreo Fudge cake turned out to be one of the best chocolate-y dessert I've had and I don't like chocolate!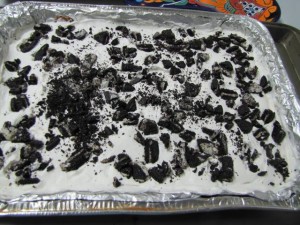 Well I made a
mistake
with the recipe (duh! multi-tasking with too many other stuff – baking and decorating cakes etc. etc. etc.) I realized I had FORGOTTEN to add the flour 10 mins. AFTER the tray went into the oven! But all is not lost because I had a taste of this dessert and it was SOOOOOO good. So rich and gooey and just so nice! I should change the name to
Marshmallow Oreo Fudge Pudding cake
!
I've decided to keep the recipe with the mistake.
For Original Recipe go to this link  http://backforsecondsblog.com/2013/10/marshmallow-oreo-fudge-cake/
Cake
1/2 cup butter (softened)
1/4 cup canola oil
1 cup cocoa powder
2 cups sugar
3 eggs
1 cup pumpkin puree

2 1/2 cups flour (omit this to get the results I got)

1 cup mini marshmallows
14 Oreos (chopped)
Topping
10oz chocolate syrup
8oz Cool Whip (or whipped cream)
8 Oreos (chopped)
Cake
Preheat oven to 350
In a large mixing bowl beat butter, oil, cocoa, and sugar until smooth. Add pumpkin, eggs, and salt and mix again.

Slowly add in flour

and mix until combined. (this is the part I did not do, or forgot to do rather) Stir in oreos and marshmallows. Spread into a greased 9×13″ pan. Bake for 20-25 minutes or until a toothpick inserted into the center of the cake comes out clean.
Let the cake cool about 10 minutes, then poke holes all over the cake and pour chocolate syrup evenly over the cake. Let cool completely. Spread cool whip on top of the cake and sprinkle the chopped oreos on top. Store covered in the refrigerator.
Was sooooo good!!!!!