RECIPE AND PHOTO SUBMITTED BY Tammy Cherie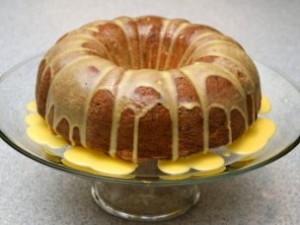 ‎
Malibu Rum Cake
4egg(s)
1 cup C&H Brown Sugar
1 Duncan Hines Yellow Cake Mix
1 Jell-O Instant Vanilla Pudding (3.4 oz.)
1 stick Land-O-Lakes Unsalted Butter
1 1/2 cups Malibu Rum
1/2 cup Wesson Vegetable Oil
Preparation
Rum Cake:
1.Position rack in center of oven and preheat to 325 degrees. Spray a 10-inch bundt pan with non stick spray.
2.Using an electric mixer, beat cake mix, vegetable oil, 1 cup Malibu rum, and eggs in a large bowl for 2 minutes.
3.Transfer batter to prepared pan. Bake until toothpick inserted in center of cake comes out clean, about 45 minutes.
4.Cool cake in pan for 20 minutes. Invert cake onto platter, then carefully remove pan.
Rum Glaze:
1.Stir sugar and 1/4 cup water in a medium saucepan over medium high heat until sugar dissolves. Add butter.
2.Simmer until mixture thickens and is syrupy, stirring often, about 5 minutes. Remove saucepan from heat and whisk in 1/2 cup Malibu rum.
3.Cool glaze completely. Drizzle evenly over cooled cake and serve.