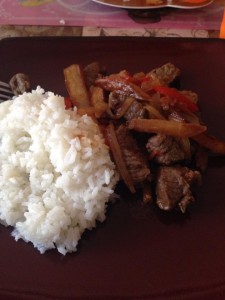 Here is a Peruvian dish  my husband loves it!
Lomo Saltado
About 1 1/2lb of sirloin steak cut into small thick chunks and marinade them with minced fresh garlic, salt, pepper and cumin. Set it aside while you cut the vegetables.
1 big red onion, sliced (thick or thin, depends how you like it)
1 big tomato, sliced
1/2 of a red pepper, sliced
4 big potatoes, sliced and fry them. Set it aside.
Heat oil in a big frying pan and cook the steak at medium heat, once the steak is cook add the onions and peppers, add some salt and pepper and let it cook until they soften then add the tomatoes, let it cook for a few minutes and add about 1/4 cup of white vinegar and 2 tablespoons of soy sauce and simmer for a few minutes then add the fries and mix it all together. Top with fresh parsley or cilantro (which ever you like) and serve with white rice 
To my own taste I like it better when I add the fries right after I add the vinegar and soy sauce and let it simmer all together. It make the fries soak in the flavor.